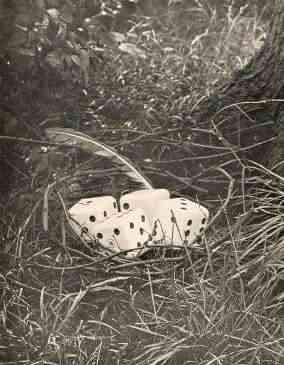 Journalist George Shepard Chappell intended his Cruise of the Kawa (1921) as a burlesque on romantic South Sea adventure books — it records author "Walter E. Traprock's" improbable adventures among the "Filbert Islands" of Polynesia:
The wak-wak has a mouth like a subway entrance and I was told that so great was his appetite for human flesh that when, as occasionally happened, some unfortunate swimmer had been eaten by a shark, a wak-wak was sure to come rushing up and bolt shark, man and all. Consequently I did most of my swimming in the lagoon.
Chappell salted the whole book with nonsense: "Captain Ezra Triplett" is shown holding a flintlock pistol carved out of wood, and the nest of the "Fatu-liva" bird is shown to contain "four snow-white, polka-dotted cubes." Author Traprock's other books are even listed as Through Borneo on a Bicycle, Around Russia on Roller Skates, Who's Hula in Hawaii, and How to Explore, and What.
Inevitably, though, it received several serious reviews, and at least one reader responded to the book's ad for an excursion to the South Seas in order to "see the cute cannibals." So — after an interval of bemused blinking, one imagines — Chappell gamely followed it up with My Northern Exposure (1922) and Sarah of the Sahara: a Romance of Nomads Land (1925).