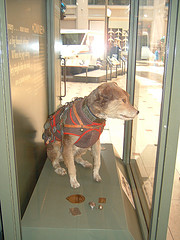 If there's a trophy for the world's best-traveled canine, it belongs to Owney, a mixed-breed terrier who wandered into the Albany post office in 1888. The workers found he was attracted to mail bags, following them onto wagons and eventually trains, so they adopted him as a mascot.
They gave him a collar ("Owney, Post Office, Albany, New York") and sent him off through the system, where he became a sort of perpetual parcel. Each time he returned to Albany he bore a new assortment of tokens and tags from mail clerks around the country; eventually these numbered 1,017. In 1895 he traveled entirely around the world via train and steamship.
He retired in 1897, and his carefully preserved remains are on display in the U.S. Postal Museum in Washington, D.C.