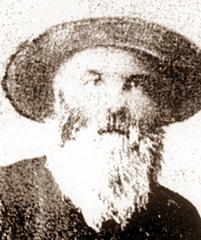 "Liver-Eating Johnson" had the coolest nickname in the Old West — cooler, perhaps, than the truth warranted.
The "mountain man" was actually born in New Jersey around 1824. He deserted the Navy after the Mexican-American War and lit out for Wyoming, where he trapped, hunted and supplied cordwood to steamboats.
The legend starts in 1847, when the Crow tribe killed his Indian wife and he launched a personal war that lasted 20 years, in which, supposedly, he would cut out and eat the liver of each man he killed.
Did he really? Who knows? But it made a good story, and Johnson's stature began to grow — literally and figuratively. His Civil War records put him at less than 6 feet tall, but local yarns soon said he was 6 foot 6.
After serving the Union Army as a sharpshooter, he spent the 1880s as a deputy sheriff in Leadville, Colo., and a town marshal in Red Lodge, Mont. He died in 1900.
But a century later the nickname was still working. The 1972 Robert Redford film Jeremiah Johnson was based in part on his life — and Redford even served as one of the pallbearers when Johnson's body was reburied in Cody, Wyo., in 1974.