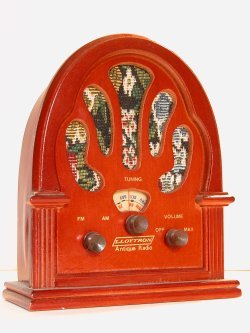 The biggest trouble with diabolical schemes is the quality control.
Case in point: Nazi propaganda minister Joseph Goebbels once actually put together his own big band, plotting to use "degenerate" swing music to hypnotize decadent Americans.
"Charlie and His Orchestra" were broadcast to the United States, Canada and England, playing popular tunes like "I Got Rhythm," "Stardust," and "The Sheik Of Araby."
About halfway through each song, when he had the audience's attention, "Charlie" (Karl Schwendler) would leave off singing and launch into a Nazi tirade about war, privation, death, pain, and the master race. Unfortunately, Schwendler's snarling is not on a par with his bandleading, so he comes off sounding like Colonel Klink in fourth grade:
Thanks for the memories/It gives us strength to fight/For freedom and for right/It might give you a headache, England/That the Germans know how to fight/And hurt you so much …
It's said that the act picked up its own following in Germany after the war. The band is actually not bad, but whoever wrote the propaganda probably raised American morale.