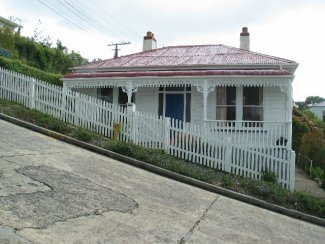 Don't laugh, you don't have to mow it.
Baldwin Street, in Dunedin, New Zealand, is thought to be the steepest public street in the world. It has a grade of 35 percent; San Francisco's steepest are 31.5 percent.
There's a sign warning motorists not to attempt it, but that hasn't discouraged runners, who gather each summer for the "Baldwin Street Gutbuster." In the first event, serious runners climb to the top, then, even harder, try to get down again. In the second, skaters, skateboarders, and pram-pushers try to cover the same 400-meter circuit. One guy actually succeeded on a unicycle.
There's also a charity event each July in which contestants roll candies down the hill. No injuries have been reported.