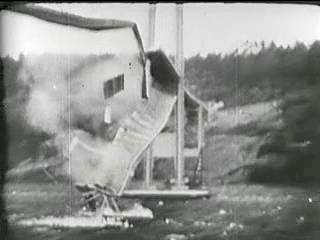 On Nov. 7, 1940, photographer Leonard Coatsworth was halfway across Washington's Tacoma Narrows Bridge when he felt it move strangely:
"Just as I drove past the towers, the bridge began to sway violently from side to side. Before I realized it, the tilt became so violent that I lost control of the car. … I jammed on the brakes and got out, only to be thrown onto my face against the curb… Around me I could hear concrete cracking. … The car itself began to slide from side to side of the roadway."
Gripping the curb, he crawled 500 yards back toward the toll plaza, turned and watched his car plunge into the Narrows. With it went his daughter's dog, Tubby, who was too terrified to jump out.
The bridge had been competently designed, with supports by Golden Gate designer Leon Moisseiff, but no one had counted on its twisting and buckling in the wind.