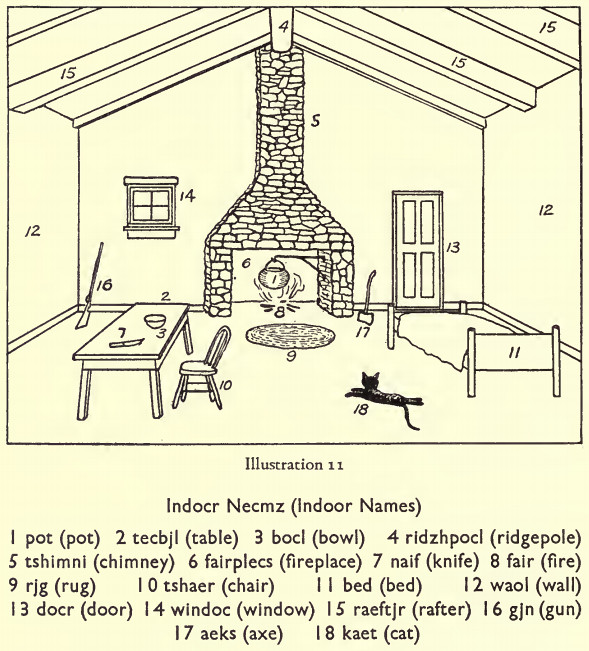 When Westinghouse buried a time capsule at the 1939 World's Fair, the planners hoped that it wouldn't be opened until 6939. That created a problem: How could they leave writings for a future civilization when language itself was sure to change immeasurably in the ensuing 5,000 years?
Westinghouse tried to solve the problem by enlisting Smithsonian ethnologist John P. Harrington, who wrote a "mouth map" ("Mauth Maep") showing the pronunciation of "33 sounds of 1938 English" and a list of "the thousand words most essential to our daily speech and thought." He also presented Aesop's fable "The North Wind and the Sun" in "neo-phonetic spelling" and in 1938 English:
Dhj Northwind aend dhj Sjn wjr dispyucting whitsh woz dhj stronggjr, hwen j traevjljr kecm jlong raepd in j worm klock. Dhec jgricd dhaet dhj wjn huc fjrst mecd dhj traevjljr teck of hiz klock shud bic konsidjrd stronggjr dhaen dhj jdhjr. Dhen dhj Northwind bluc widh aol hiz mait, bjt dhj mocr hie bluc, dhj mocr klocsli did dhj traevjljr focld hiz klock jraund him, aend aet laest dhj Northwind gecv jp dhj jtempt. Dhen dhj Sjn shocn aut wormli, aend imicdijtli dhj traevjljr tuk of hiz klock; aend soc dhj Northwind woz jblaidzhd tj konfes dhaet dhj Sjn woz dhj stronggjr jv dhj tuc.

The Northwind and the Sun were disputing which was the stronger, when a traveler came along wrapped in a warm cloak. They agreed that the one who first made the traveler take off his cloak should be considered stronger than the other. Then the North wind blew with all his might, but the more he blew, the more closely did the traveler fold his cloak around him; and at last the Northwind gave up the attempt. Then the Sun shone out warmly, and immediately the traveler took off his cloak; and so the Northwind was obliged to confess that the Sun was the stronger of the two.
But even if the book manages to convey 20th-century vocabulary, grammar, and pronunciation to future scholars, will the world that these describe be too remote for them to imagine? The Westinghouse authors begged intermediate librarians to retranslate the book continually to keep alive its meaning. Will that be enough? I guess they'll find out.