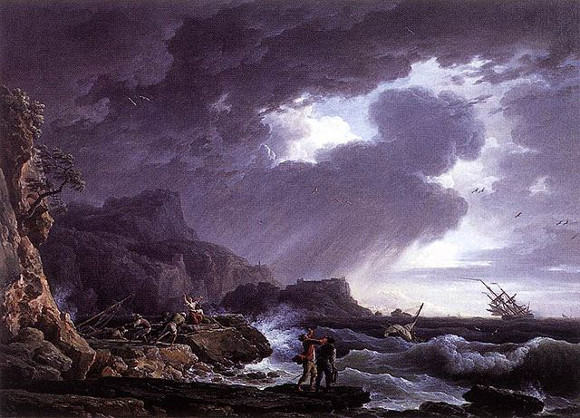 haliography
n. a description of the sea
Charles Dickens' 1850 novel David Copperfield climaxes with a dramatic tempest at Yarmouth:
The tremendous sea itself, when I could find sufficient pause to look at it, in the agitation of the blinding wind, the flying stones and sand, and the awful noise, confounded me. As the high watery walls came rolling in, and, at their highest, tumbled into surf, they looked as if the least would engulf the town. As the receding wave swept back with a hoarse roar, it seemed to scoop out deep caves in the beach, as if its purpose were to undermine the earth. When some white-headed billows thundered on, and dashed themselves to pieces before they reached the land, every fragment of the late whole seemed possessed by the full might of its wrath, rushing to be gathered to the composition of another monster. Undulating hills were changed to valleys, undulating valleys (with a solitary storm-bird sometimes skimming through them) were lifted up to hills; masses of water shivered and shook the beach with a booming sound; every shape tumultuously rolled on, as soon as made, to change its shape and place, and beat another shape and place away; the ideal shore on the horizon, with its towers and buildings, rose and fell; the clouds fell fast and thick; I seemed to see a rending and upheaving of all nature.
Tolstoy wrote, "If you sift the world's prose literature, Dickens will remain; sift Dickens, David Copperfield will remain; sift David Copperfield, the description of the storm at sea will remain." The scene formed the conclusion of Dickens' public readings from the novel, and was often hailed as the grandest moment in his performances. Thackeray's daughter Annie said the storm scene was more thrilling than anything she had ever seen in a theater: "It was not acting, it was not music, nor harmony of sound and color, and yet I still have an impression of all these things as I think of that occasion."