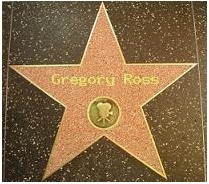 If stars on Hollywood Boulevard actually recognized incendiary talent, this is what mine would look like. Unfortunately, the actual system is a lot more sordid than people think. Oscar Levant said, "Behind the phony tinsel of Hollywood lies the real tinsel."
It's the Chamber of Commerce that doles out the stars, choosing 20-24 each year from among 200-300 applicants. That's right, you have to apply. It's all just a big marketing project. Even if they pick you, they charge a $15,000 fee; usually that's paid by your studio, which uses the ceremony to promote a recent project.
Like the Grammys, the stars are no measure of real merit. Al Pacino, Francis Ford Coppola, Robert Redford, and Mel Gibson don't have stars; Bob Barker, David Spade, Pee Wee Herman, and Big Bird do.
So save your money and design your own star like I did. You can blow the $15,000 on heroin and hookers.