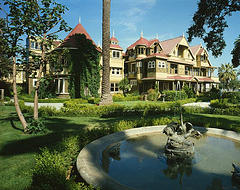 Freud would have loved San Jose's "Winchester Mystery House," a mansion-sized emblem of its owner's mental illness. Rifle heiress Sarah L. Winchester started construction in 1884, and never stopped. A medium had told her of a family curse, and convinced her that she would die if the construction ever ceased.
So it went on, 24 hours a day, for 38 years. There was no plan; the house was just continuously rebuilt. Worse, Sarah believed that vengeful spirits of gun victims were seeking her, so she slept in a different room each night, and the layout is full of secret passages and stairways and doors that lead nowhere.
The result shows what $5.5 million worth of insanity looks like. Altogether there are 160 rooms, including 40 bedrooms, 47 fireplaces, 1,260 windows, 17 chimneys (with evidence of two others), two ballrooms, two basements and three working elevators.
It takes 20,000 gallons to paint the place, so painting never stops. In that sense, Sarah's weird wish lives on.