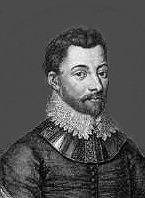 Drake's Plate of Brass is a museum curator's nightmare: A priceless artifact revealed as historians' in-joke gone terribly awry.
The story surrounds a golden plate that Francis Drake reportedly left as a monument when he visited Northern California in 1579. Hoping to fool one of their number, a group of local historians hammered out a fake version in 1936 and planted it near Drake's landing point.
Sure enough, it made its way to the victim, historian George Bolton of Berkeley. Before they could reveal the joke, though, Bolton vouched for the plate's authenticity, engaging the University of California and paying $2,500 for it.
Now that the hoax was so painfully public the conspirators had to move carefully. They tried discreetly to reveal their joke, but then to their horror Columbia University confirmed the plate as genuine. It was added to textbooks; likenesses were sold as souvenirs; copies were presented to Queen Elizabeth II herself on several occasions.
Only 40 years later, after exhaustive testing at Oxford, Lawrence Berkeley Laboratory and MIT, was the plate confirmed as a fake, and it was several years before the whole story was pieced together. The plate is still on display at the Bancroft Library at Berkeley, an embarrassing testament to the gullibility of an excited historian.