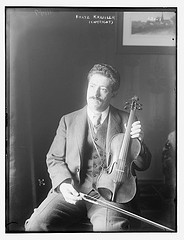 Fritz Kreisler had already gained immortality as a violin virtuoso when in 1935 he revealed that he was also a composer — for 30 years he had been performing his own compositions in concert but attributing them to Vivaldi, Couperin, Porpora, and Pugnani.
In the uproar that followed, Kreisler argued that as a young man he'd had no reputation; audiences would not have paid to hear the compositions of an unknown violinist. That was just the point, opined the Philadelphia Record: Fans had bought the pieces, and indeed other violinists had performed them, thinking them the work of established composers.
The Portland Oregonian agreed: "What if Fritz Kreisler had died without making confession that over a period of thirty years he had been composing music and signing to it the names of half-forgotten composers of former times? What if he had left no list of his works?"
Which raises an interesting question: How many such hoaxes have succeeded? How many of our great works of art are undiscovered forgeries?