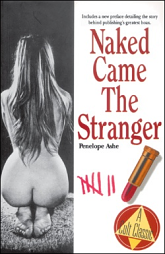 In 1969, convinced that anything prurient would sell in the era of Harold Robbins and Jacqueline Susann, Newsday columnist Mike McGrady decided to manufacture his own bestseller. He asked 24 colleagues to write a chapter apiece, following two rules: They had to write badly, and there had to be an "unremitting emphasis on sex":
In the darkened room, now thirstier than ever, Gillian was suddenly aware of the presence beside her of Mario Vella. He had allowed his left elbow to brush gently against her. In any other surrounding, in any other circumstances, Gillian Blake would have gracefully withdrawn. She didn't. She held her ground and his elbow became more persistent.
Sadly, McGrady was right. With two sex scenes per chapter, Naked Came the Stranger quickly became a national bestseller, ending the year at number 7 on the fiction charts, five slots behind The Godfather.
"Penelope Ashe's scorching novel makes Portnoy's Complaint and Valley of the Dolls read like Rebecca of Sunnybrook Farm," wrote the Long Island Press. And the Asheville, N.C., Citizen-Times said it was "witty and written in good taste, and brings out many new angles in man-woman relationships."
"These are the kind of people," McGrady told Life, "who are running around setting literary standards."