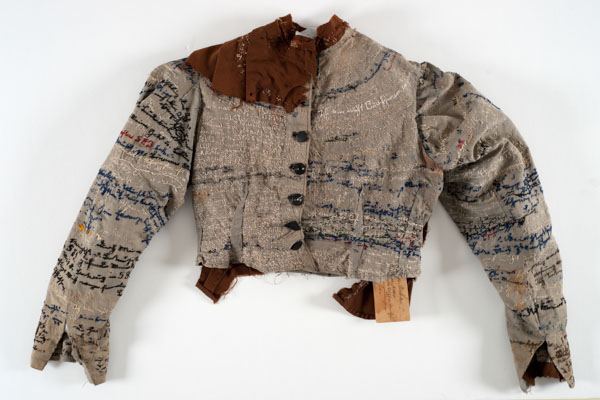 After several delusional episodes, seamstress Agnes Richter was institutionalized at the University of Heidelberg Psychiatric Clinic in 1893, at age 49. While performing the needlework expected of female patients, she sewed a diary of sorts into a remarkable jacket pieced together of wool and linen. "Writing" in a now-obsolete German script, she recorded brief, enigmatic expressions reflecting life in a psychiatric hospital: I wish to read, I am not big, I plunge headlong into disaster. Her laundry number, 583, appears several times, apparently to ensure that the jacket was not lost during cleaning.
Another patient, Mary Lieb, institutionalized periodically at Heidelberg for mania, would sometimes decorate the floors of various rooms with patterns of cloth strips. The warders found some of these remarkable enough to photograph (below). Physician Hans Prinzhorn included some of the photographs in his collection of the art of the insane, and the images have survived to the present day as strangely vivid marks of an inscrutable self-expression.
"The patterns are extraordinary, comprising rows of starbursts (or perhaps flowers), letters, crosses, geometric patterns, and sometimes intricate curved figures," writes Lyle Rexer in How to Look at Outsider Art. "Their purpose and organization are unclear, but like much outsider art, the work appears to be a combination of decoration and communication, an attempt to reorder the space 'from the ground up,' visually transform it, and invest it with new significance." What it means only Lieb knew.