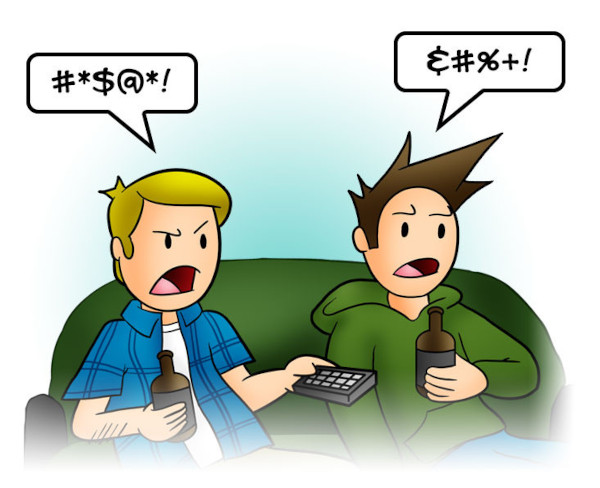 In 1980, after 30 years of drawing Beetle Bailey, comic artist Mort Walker published The Lexicon of Comicana, a lighthearted meditation on the many conventions that a reader of comic strips is expected to understand. He calls it a lexicon because he's made up names for all of them:
A grawlix (above) is a string of symbols representing profanity.
Emanata are lines surrounding a character's head to indicate surprise or shock.
A lucaflect is the distorted image of a window in a shiny object.
Blurgits are blurs of motion within a single panel, to denote frenzied action.
Sphericasia are lines tracking motion: a throwatron is a line following a football, a sailatron follows a wandering paper airplane, and a dashed staggeratron follows an intoxicated person. If the motion is particularly fast, these might begin with a dust cloud, called a briffit.
Plewds are flying droplets of sweat to indicate stress, hard work, or nerves.
An indotherm is a series of wavy lines to indicate rising heat.
Vites are fine vertical lines to indicate a shine on a floor. Strangely, a window or mirror bears dites, which are diagonal.
More: a light bulb represents an idea, Zs (or a saw cutting a log) represent snoring, distant birds are inverted Ws, patches denote poverty, all bones are the same shape, all new things have price tags, all injuries require bandages, all paint cans bear drippings. Who invented all these conventions, and how did we all learn to observe them?