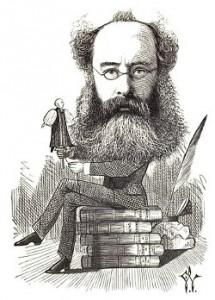 Convalescing from pneumonia one winter, Mary L. Daniels occupied herself by collecting all the digressions to the reader in the 47 novels of Anthony Trollope. Victorian fiction permitted a writer to stop in mid-story and expound his own views, and Trollope indulged this privilege with staggering frequency — together his digressions fill nearly 400 pages of close-set type, practically a novel's worth in themselves. Some examples:
"Throughout the world, the more wrong a man does, the more indignant is he at wrong done to him."
"A man cannot rid himself of a prejudice because he knows or believes it to be a prejudice."
"Prosperity is always becoming more prosperous."
"It is not the girl that the man loves, but the image which imagination has built up for him to fill the outside covering which has pleased his senses."
"When we buckle on our armour in any cause, we are apt to go on buckling it, let the cause become as weak as it may."
"They say that the pith of a lady's letter is in the postscript."
"How often in the various amusements of the world is one tempted to pause a moment and ask oneself whether one really likes it!"
"There is nothing that a woman will not forgive a man, when he is weaker than she is herself."
"The comic almanacs give us dreadful pictures of January and February; but, in truth, the months which should be made to look gloomy in England are March and April. Let no man boast himself that he has got through the perils of winter till at least the seventh of May."
"These digressions are pure Trollope — at least of that moment — undiluted by plot, character, theme, or modern exegesis," Daniels writes. "By studying these digressions alone, we should be able to trace any changes in Trollope's thinking without reference to what we think he meant or to what a particular character said or did." The whole list is here.