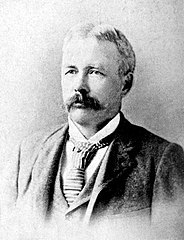 Having lost both his legs at the Second Battle of Bull Run, James Tanner had settled into life as a government stenographer in the Ordnance Department in Washington, D.C., when on April 14, 1865, he was suddenly summoned to the building next to his boarding house, where Abraham Lincoln lay dying. Between midnight and 1:30 a.m., using shorthand, he recorded the accounts of those who had witnessed the assassination, and, he said later, "in fifteen minutes I had testimony enough to hang Wilkes Booth, the assassin, higher than ever Haman hung." Here's a sample, the statement of actor William Henry Hawk, who had been performing at Ford's Theatre that night:
I was on the stage at the time of the firing & heard the report of the pistol. My back was towards the Presidents box at the time. I heard something tear & somebody fell & as I looked towards him he came in the direction in which I was standing & I believe to the best of my knowledge that it was John Wilkes Booth. Still I am not positive that it was him. I only had one glance at him as he was rushing towards me with a dagger & I turned and run & after I run up a flight of stairs I turned and exclaimed 'My God that's John Booth.' I am acquainted with Booth. I met him the first time a year ago. I saw him today about one o'clock. Said I 'how do you do Mr. Booth' and he says 'how are you Hawk.' He was sitting on the steps of Fords Theatre reading a letter. He had the appearance of being sober at the time. I was never intimate with him. He had no hat on when I saw him on the stage. In my own mind I do not have any doubt but that it was Booth. He made some expression when he came on the stage but I did not understand what.
Tanner's notes are known as the Tanner Manuscript — you can read them at the Internet Archive.