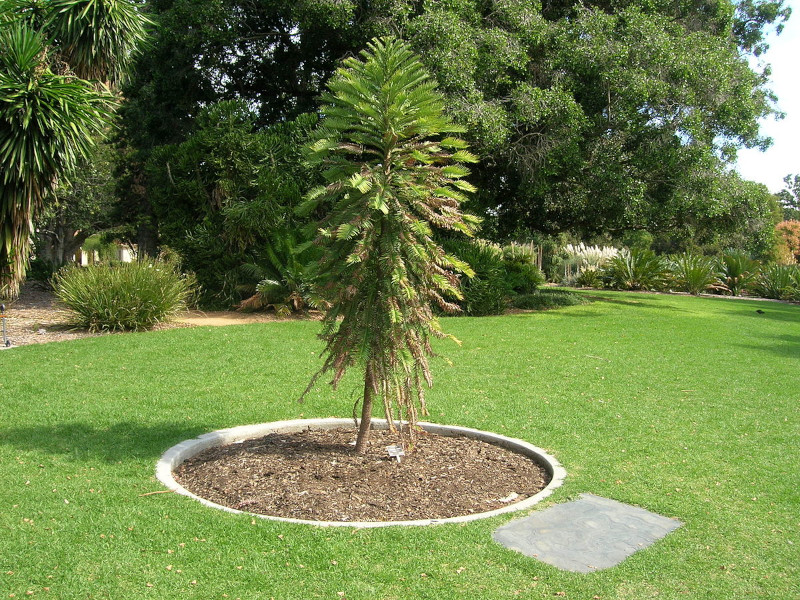 In 1994 bushwalker David Noble abseiled off a cliff 150 kilometers northwest of Sydney and found himself in a very deep canyon surrounded by trees with strange serrated leaves and curious bubbly bark.
He took a sample back to his colleagues at the New South Wales National Parks and Wildlife Service and discovered that he'd found one of the greatest living fossils of the 20th century, with roots in the age of dinosaurs 110-120 million years ago. Somehow the species had survived raging brushfires and 17 ice ages, apparently by retreating to a single canyon in a national park.
The location of that canyon has been kept secret to protect the survivors, which numbered only 100 adult trees in three or four patches, but a special auction in 2005 raised more than a million dollars from bidders eager to receive the first trees cultivated from the rare conifers.
Tim Entwistle, executive director of Sydney's Botanic Gardens Trust, said that when he learned about Noble's discovery he went through the classic stages of botanical shock: disbelief, amazement, and excitement. "The Wollemi Pine is a unique reminder that the world is full of undiscovered wonders, that there is a lot more to know about our planet and a lot to protect."
(Richard Allen and Kimbal Baker, Australia's Remarkable Trees, 2009.)