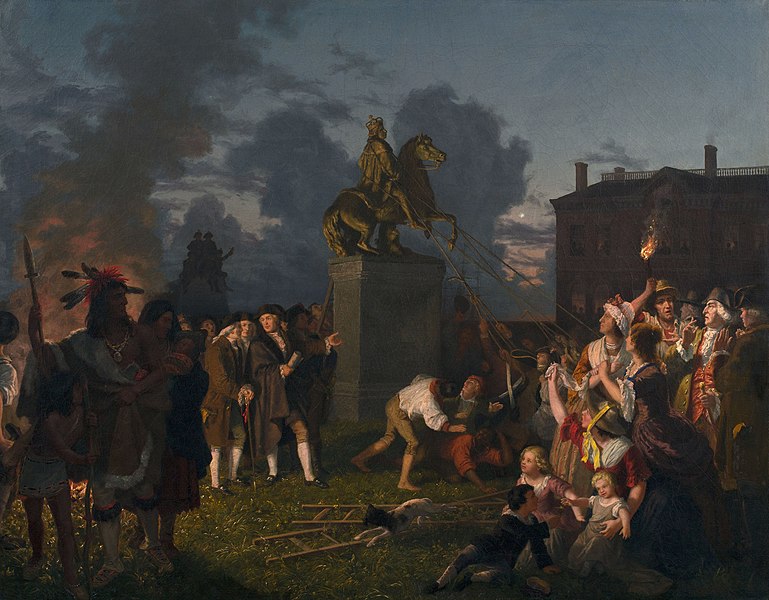 The Boston Gazette published this cleverly seditious "Enigmatical Ballad" on June 24, 1782. If each line is read in full, the poem supports British rule of the American colonies, but if either the italic or the roman text is read alone, then it advocates revolution:
I justify every part, of King and Parliament,
Of a whig with all my heart, I hate their cursed intent;
For to support I'll try, friends of administration,
Friends of Liberty, are troubles to the nation;
I think the association, a cruel, base intent,
An honor to the nation, the act of Parliament,
I wish the best success, to North and his conclusion,
Unto the grand Congress, the worst of all confusion;
All luck beneath the sun, to Mansfield, Bute and North;
To General Washington, destruction and so forth,
Hark! Hark! the trumpet sounds, the din of war's alarms,
O'er seas and solid ground, doth call us all to arms;
Who for King George doth stand, their honors soon will shine;
Their ruin is at hand, who with the Congress join;
The acts of Parliament, in them I much delight;
I hate their cursed intent, who for the Congress fight,
The Tories of the day, they are my daily toast;
They soon will sneak away, who independence boast,
Who non-resistance hold, they have my hand and heart;
May they for slaves be sold, who act a whiggish part;
On Mansfield, North and Bute, may daily blessings pour,
Confusion and dispute, on Congress evermore;
To North, that British Lord, may honors still be done;
I wish a block or cord, to General Washington.