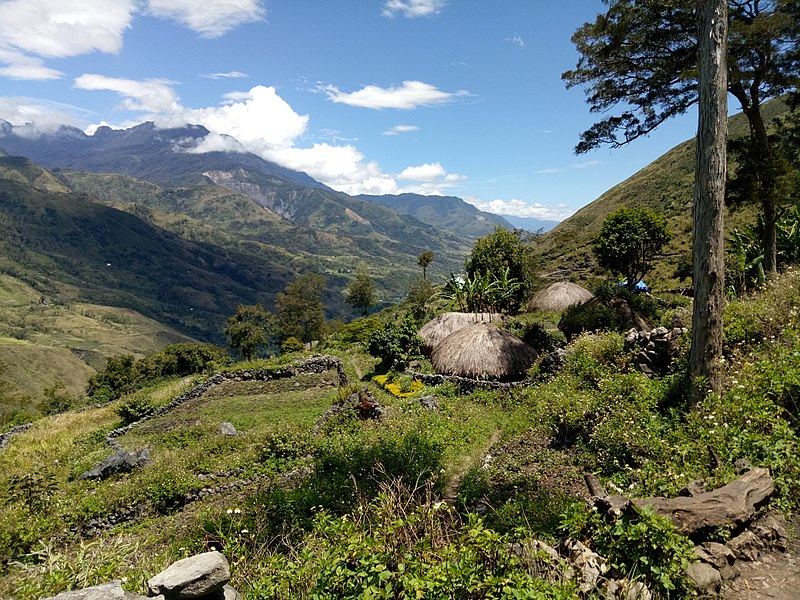 In 1945, a U.S. Army transport plane crashed in New Guinea, leaving three survivors marooned in the island's mountainous interior. Injured, starving, and exhausted, the group seemed beyond the hope of rescue. In this week's episode of the Futility Closet podcast we'll describe the plight of the stranded survivors and the remarkable plan to save them.
We'll also reflect on synthetic fingerprints and puzzle over a suspicious notebook.
Intro:
What's the shortest possible game of Monopoly if each player plays optimally?
Sources for our feature on the Gremlin Special:
Mitchell Zuckoff, Lost in Shangri-La: A True Story of Survival, Adventure, and the Most Incredible Rescue Mission of World War II, 2011.
Randy Roughton, "Impossible Rescue," Airman, Jan. 26, 2015.
John Cirafici, "Lost in Shangri-La," Air Power History 58:3 (Fall 2011), 65.
Sara Hov, "Lost in Shangri-La," Army 61:8 (August 2011), 70.
Harrison T. Beardsley, "Harrowing Crash in New Guinea," Aviation History 10:2 (November 1999), 46.
David Grann, "Plane Crash Compounded by Cannibals," Washington Post, May 22, 2011.
Mitchell Zuckoff, "Escape From the Valley of the Lost," Calgary Herald, May 8, 2011.
Mitchell Zuckoff, "In 1945, a U.S. Military Plane Crashed in New Guinea," Vancouver Sun, May 7, 2011.
Brian Schofield, "A Tumble in the Jungle," Sunday Times, May 1, 2011.
Mitchell Zuckoff, "Return to Shangri-La," Boston Globe, April 24, 2011.
"Wartime Plane Crash," Kalgoorlie [W.A.] Miner, Sept. 17, 1947.
"Glider Saved Fliers, WAC in Wild Valley," [Hagerstown, Md.] Daily Mail, Aug. 14, 1945.
Margaret Hastings, "Shangri-La Diary," Pittsburgh Sun-Telegraph, July 22, 1945.
Bob Myers, "Rescued Wac Is En Route to Washington," [Binghamton, N.Y.] Press and Sun-Bulletin, July 9, 1945.
"3 Crash Survivors Dramatically Rescued From New Guinea Valley by Glider Snatch Pickup," St. Louis Globe-Democrat, June 30, 1945.
"New Guinea's 'Hidden Valley,'" St. Louis Globe-Democrat, June 28, 1945.
"Survivors of Mishap in Shangri-La Valley Reach Their Rescuers," Birmingham [Ala.] News, June 20, 1945.
"Two Airmen, Wac Await Rescue in Fantastic 'Hidden Valley,'" [Richmond, Va.] Times Dispatch, June 8, 1945.
"Plan Rescue of Survivors of Crash in Shangri-La Dutch New Guinea," Del Rio [Texas] News Herald, June 8, 1945.
Lynn Neary, "A WWII Survival Epic Unfolds Deep In 'Shangri-La,'" All Things Considered, National Public Radio, April 26, 2011.
Listener mail:
Sophie Weiner, "These Synthetic Fingerprint Gloves Can Unlock Your Phone," Popular Mechanics, Nov. 12, 2016.
"TAPS – Make Touchscreen Gloves Using a Sticker w/ Touch ID," Kickstarter.com (accessed Sept. 23, 2021).
Nanotips (last accessed Sept. 23, 2021).
Jon Porter, "This Picture of Cheese Helped Send a Man to Prison for 13 Years," The Verge, May 24, 2021.
Alex Mistlin, "Feeling Blue: Drug Dealer's 'Love of Stilton' Leads to His Arrest," Guardian, May 24, 2021.
Rob Picheta, "Drug Dealer Jailed After Sharing a Photo of Cheese That Included His Fingerprints," CNN, May 25, 2021.
Chaim Gartenberg, "WhatsApp Drug Dealer Convicted Using Fingerprints Taken From Photo," The Verge, April 16, 2018.
Chris Wood, "WhatsApp Photo Drug Dealer Caught by 'Groundbreaking' Work," BBC News, April 15, 2018.
CSChawaii, "CSC Presents Japanese Sign Language – Family" (video), Sept. 25, 2017.
Ian Sample, "Copying Keys From Photos Is Child's Play," Guardian, Nov. 14, 2008.
Elinor Mills, "Duplicating Keys From a Photograph," CNET, Nov. 19, 2008.
"KeyMe: Access & Share Saved Keys" (accessed Sept. 25, 2021).
"KeyMe: Access & Share Keys" (accessed Sept. 25, 2021).
This week's lateral thinking puzzle was contributed by listener Bill Spencer. Here's a corroborating link (warning — this spoils the puzzle).
You can listen using the player above, download this episode directly, or subscribe on Google Podcasts, on Apple Podcasts, or via the RSS feed at https://futilitycloset.libsyn.com/rss.
Please consider becoming a patron of Futility Closet — you can choose the amount you want to pledge, and we've set up some rewards to help thank you for your support. You can also make a one-time donation on the Support Us page of the Futility Closet website.
Many thanks to Doug Ross for the music in this episode.
If you have any questions or comments you can reach us at podcast@futilitycloset.com. Thanks for listening!