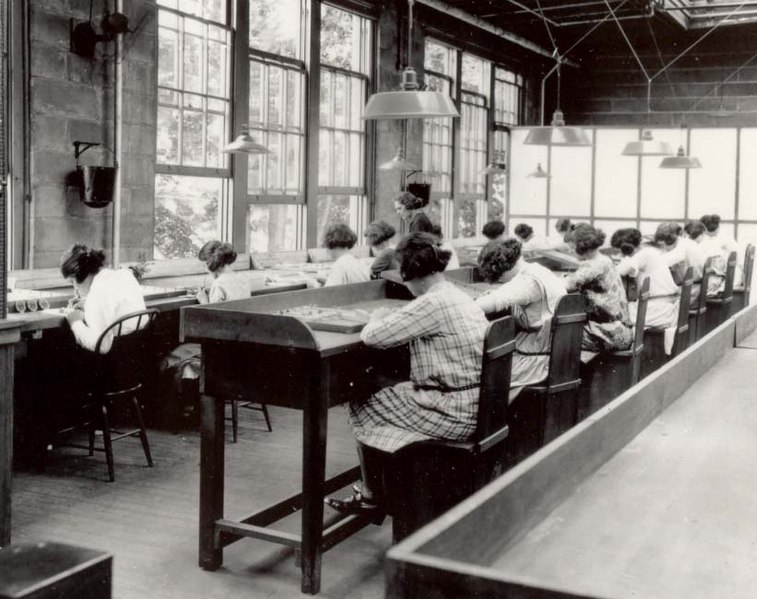 In 1917, a New Jersey company began hiring young women to paint luminous marks on the faces of watches and clocks. As time went on, they began to exhibit alarming symptoms, and a struggle ensued to establish the cause. In this week's episode of the Futility Closet podcast we'll tell the story of the Radium Girls, a landmark case in labor safety.
We'll also consider some resurrected yeast and puzzle over a posthumous journey.
Intro:
Joseph Underwood was posting phony appeals for money in 1833.
The earliest known written reference to baseball appeared in England.
Sources for our feature on the Radium Girls:
Claudia Clark, Radium Girls : Women and Industrial Health Reform, 1910-1935, 1997.
Ross M. Mullner, Deadly Glow: The Radium Dial Worker Tragedy, 1999.
Robert R. Johnson, Romancing the Atom: Nuclear Infatuation From the Radium Girls to Fukushima, 2012.
Dolly Setton, "The Radium Girls: The Scary but True Story of the Poison that Made People Glow in the Dark," Natural History 129:1 (December 2020/January 2021), 47-47.
Robert D. LaMarsh, "The Radium Girls: The Dark Story of America's Shining Women," Professional Safety 64:2 (February 2019), 47.
Angela N.H. Creager, "Radiation, Cancer, and Mutation in the Atomic Age," Historical Studies in the Natural Sciences 45:1 (February 2015), 14-48.
Robert Souhami, "Claudia Clark, Radium Girls," Medical History 42:4 (1998), 529-530.
Ainissa Ramirez, "A Visit With One of the Last 'Radium Girls,'" MRS Bulletin 44:11 (2019), 903-904.
"Medicine: Radium Women," Time, Aug. 11, 1930.
"Poison Paintbrush," Time, June 4, 1928.
"Workers From Factory May Get Federal Honors," Asbury Park Press, June 27, 2021.
John Williams, "Tell Us 5 Things About Your Book: Kate Moore's 'The Radium Girls,'" New York Times, April 30, 2017.
Jack Brubaker, "Those 'Radium Girls' of Lancaster," [Lancaster, Pa.] Intelligencer Journal / Lancaster New Era, May 9, 2014.
William Yardley, "Mae Keane, Whose Job Brought Radium to Her Lips, Dies at 107," New York Times, March 13, 2014.
Fred Musante, "Residue From Industrial Past Haunts State," New York Times, June 24, 2001.
Denise Grady, "A Glow in the Dark, and a Lesson in Scientific Peril," New York Times, Oct. 6, 1998.
Martha Irvine, "Dark Secrets Come to Light in New History of 'Radium Girls,'" Los Angeles Times, Oct. 4, 1998.
Marc Mappen, "Jerseyana," New York Times, March 10, 1991.
"Radium Poisoning Finally Claims Inventor of Luminous Paint After Fight to Harness Terrific Force of Atom," Brooklyn Daily Eagle, Nov. 25, 1928.
"Two of Women Radium Victims Offer Selves for Test While Alive," [Danville, Va.] Bee, May 29, 1928.
"Death Agony From Radium," [Brisbane, Qld.] Daily Standard, May 15, 1928.
"To Begin Two Suits Against Radium Co.," New York Times, June 24, 1925.
"U.S. Starts Probe of Radium Poison Deaths in Jersey," Brooklyn Daily Eagle, June 19, 1925.
Listener mail:
Carolyn Wilke, "How Do We Know What Ancient People Ate? Their Dirty Dishes," Atlantic, July 24, 2021.
Chris Baraniuk, "The Treasure Inside Beer Lost in a Shipwreck 120 Years Ago," BBC, June 22, 2021.
Fiona Stocker, "A Beer Brewed From an Old Tasmanian Shipwreck," BBC, Dec. 7, 2018.
Mary Esch, "Taste of History: Yeast From 1886 Shipwreck Makes New Brew," AP News, March 15, 2019.
National Collection of Yeast Cultures.
"National Collection of Yeast Cultures," Wikipedia (accessed Aug. 29, 2021).
"History of Missing Linck," Missing Linck Festival (accessed Sep. 3, 2021).
"Missing Linck Festival Arrives … Finally!" The Gnarly Gnome, June 4, 2021.
This week's lateral thinking puzzle was contributed by listener Tim Ellis, who sent this corroborating link (warning — this spoils the puzzle).
You can listen using the player above, download this episode directly, or subscribe on Google Podcasts, on Apple Podcasts, or via the RSS feed at https://futilitycloset.libsyn.com/rss.
Please consider becoming a patron of Futility Closet — you can choose the amount you want to pledge, and we've set up some rewards to help thank you for your support. You can also make a one-time donation on the Support Us page of the Futility Closet website.
Many thanks to Doug Ross for the music in this episode.
If you have any questions or comments you can reach us at podcast@futilitycloset.com. Thanks for listening!