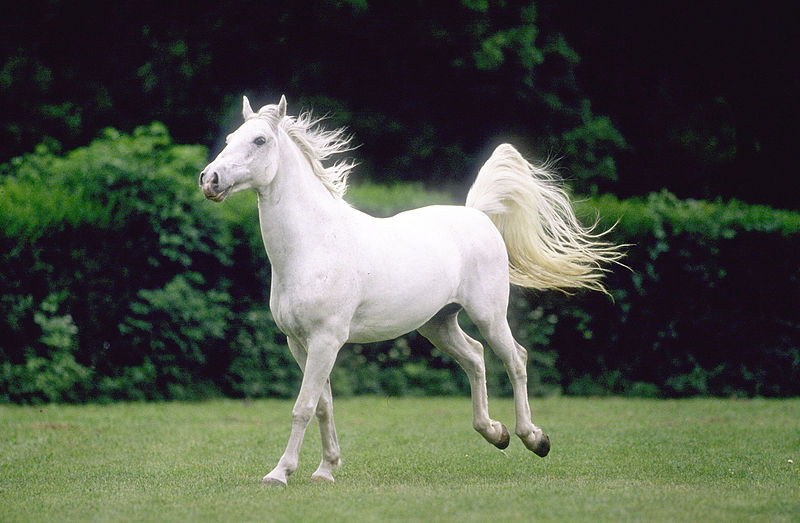 In April 1945, a group of American soldiers learned that hundreds of Lipizzaner horses were being held on a farm in western Czechoslovakia — and set out to rescue them before the Red Army could reach them. In this week's episode of the Futility Closet podcast we'll tell the story of Operation Cowboy, one of the strangest episodes of World War II.
We'll also learn about an NBA brawl and puzzle over a technology's link to cancer deaths.
Intro:
What's wrong with these Martian census numbers?
Japanese puzzle maven Nob Yoshigahara offered this perplexing model.
Sources for our feature on Operation Cowboy:
Mark Felton, Ghost Riders: When U.S. and German Soldiers Fought Together to Save the World's Most Beautiful Horses in the Last Days of World War II, 2018.
Stephan Talty, Operation Cowboy: The Secret American Mission to Save the World's Most Beautiful Horses in the Last Days of World War II, 2014.
David R. Dorondo, "Enemies Unite to Rescue Equestrian Captives," Army 69:8 (August 2019), 70-71.
Mark Felton, "Operation Cowboy — How American GIs & German Soldiers Joined Forces to Save the Legendary Lipizzaner Horses in the Final Hours of WW2," Military History Now, Nov. 25, 2018.
Karen Jensen, "'Something Beautiful,'" World War II 24:4 (November 2009), 52-59,5.
Boris Brglez, "The 3rd Army Rescue of the Lipizzaners," United States Army Medical Department Journal, January-March 2009, 59-63.
Renita Foster, "Saving the Lippizaners: American Cowboys Ride to the Rescue," Armor 107:3 (May-June 1998), 22-23.
Susan Davis, "Operation Cowboy in 1945 a Group of U.S. Soldiers Liberated 375 Lipizzans From Nazi Captivity," Sports Illustrated, Oct. 16, 1995.
Marea Donnelly, "Hoof Dares Wins," [Surry Hills, N.S.W.] Daily Telegraph, Sept. 8, 2018.
Matt Thompson, "WWII Soldier's Heroism Finally Coming to Light in His Hometown," [Toledo] Blade, May 29, 2016.
Jennifer Bunn, "2CR, Czech Republic Remember Operation Cowboy," army.mil, May 2, 2016.
Molly Bompane, "Army Europe, Czech Republic Celebrates 70th Anniversary of Operation Cowboy," army.mil, May 27, 2015.
Jane Shilling, "History: The Beautiful Lipizzaner Breed Has Endured a Brutal 20th Century, Discovers Jane Shilling," Sunday Telegraph, Aug. 5, 2012.
Dan Craft, "Lipizzaners Saved in War," McClatchy-Tribune Business News, Sept. 28, 2006.
Listener mail:
Charlie Miller, "What's the Record for Most Foul Balls Hit in a Single At-Bat?" Athlon Sports, Jan. 23, 2013.
Harker Davies, "Randy Johnson Kills Dove," YouTube (video).
"Randy Johnson Kills Dove With Pitch," ABC News, March 26, 2001.
"Valencian Trinquet," Wikipedia (accessed May 6, 2021).
"Valencian Pilota," Wikipedia (accessed May 6, 2021).
TheNBAFreak, "Malice at the Palace," YouTube (video).
"Pacers–Pistons Brawl," Wikipedia (accessed May 5, 2021).
"Top 10 List of Worst NBA Fights, Cheap Shots," NBA News, April 23, 2012.
Scott Gleeson, "Metta Sandiford-Artest and Stephen Jackson Reflect on 'Malice at the Palace': Fans 'Started It'," USA Today, Nov. 10, 2020.
"Suspensions Without Pay, Won't Be Staggered," ESPN, Nov. 21, 2004.
Michael McCarthy, "Fan Who Ignited Brawl Forever Banned From Pistons' Home Games," USA Today, Nov. 17, 2006.
Zach Buckley, "The 5 Fights That Changed the NBA," Bleacher Report, May 23, 2020.
"Carlisle: 'I Was Fighting for My Life Out There,'" ESPN, Nov. 20, 2004.
"Recurring Jokes in Private Eye," Wikipedia (accessed May 8, 2021).
"Arkell v. Pressdram," Letters of Note, Aug. 7, 2013.
This week's lateral thinking puzzle was contributed by listener Elliot Kendall, based on an item in James Hallenbeck's 2003 book Palliative Care Perspectives.
You can listen using the player above, download this episode directly, or subscribe on Google Podcasts, on Apple Podcasts, or via the RSS feed at https://futilitycloset.libsyn.com/rss.
Please consider becoming a patron of Futility Closet — you can choose the amount you want to pledge, and we've set up some rewards to help thank you for your support. You can also make a one-time donation on the Support Us page of the Futility Closet website.
Many thanks to Doug Ross for the music in this episode.
If you have any questions or comments you can reach us at podcast@futilitycloset.com. Thanks for listening!