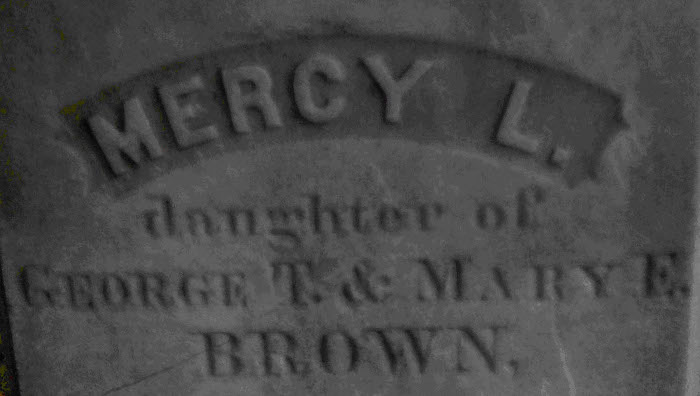 In the 19th century, some New England communities grew so desperate to help victims of tuberculosis that they resorted to a macabre practice: digging up dead relatives and ritually burning their organs. In this week's episode of the Futility Closet podcast we'll examine the causes of this bizarre belief and review some unsettling examples.
We'll also consider some fighting cyclists and puzzle over Freddie Mercury's stamp.
Intro:
Residents of Sydney and London could take a train to the local necropolis.
In the 19th century, a dog named Tschingel climbed 30 peaks.
Sources for our feature on the New England vampire panic:
Michael E. Bell, Food for the Dead: On the Trail of New England's Vampires, 2014.
Sarah Richardson, "When Americans Saw Vampires," American History 54:5 (December 2019), 7.
Michael E. Bell, "Vampires and Death in New England, 1784 to 1892," Anthropology and Humanism 31:2 (2006), 124-140.
George R. Stetson, "The Animistic Vampire in New England," American Anthropologist 9:1 (January 1896), 1-13.
John Buhler, "Disease and the Undead: Digging Up the Truth About Vampires," Canadian Journal of Medical Laboratory Science 81:3 (Fall 2019), 14-16.
Jennifer Daniels-Higginbotham et al., "DNA Testing Reveals the Putative Identity of JB55, a 19th Century Vampire Buried in Griswold, Connecticut," Genes 10:9 (2019), 636.
G. David Keyworth, "Was the Vampire of the Eighteenth Century a Unique Type of Undead-corpse?" Folklore 117:3 (December 2006), 241-260.
Patricia D. Lock, "America's Last Vampire," Calliope 22:2 (October 2011), 20.
Josepha Sherman, "Spirited Defense," Archaeology 57:3 (May/June 2004), 8.
Abigail Tucker, "The Great New England Vampire Panic," Smithsonian 43:6 (October 2012), 58-66.
Joe Bills, "New England's Vampire History," Yankee New England, Oct. 28, 2019.
"Letters to the Editor – New England Vampire Beliefs," Skeptical Inquirer 17:3 (Spring 1993), 339.
Morgan Hines, "DNA Evidence: This New England 'Vampire' Was Named John Barber in Life," USA Today, Aug. 10, 2019.
Michael E. Ruane, "Vampire Bones?; A 'Vampire's' Remains Were Found About 30 Years Ago and Now DNA Is Giving Him New Life," [Brantford, Ont.] Expositor, Aug. 1, 2019.
Craig S. Semon, "Uncovering 'Vampirism' in New England," [Worcester, Mass.] Telegram & Gazette, Sept. 30, 2015.
Valerie Franchi, "Author Shares Vivid Tales of Vampires: Bell Addresses Meeting of Historical Society," [Worcester, Mass.] Telegram & Gazette, Oct. 24, 2008.
Jascha Hoffman, "A New England Vampire Tale," Boston Globe, July 20, 2003.
Cate McQuaid, "The Secrets of the Grave: When the Living Were Ill, They Sought Out the Dead," Boston Globe, Oct. 27, 2002.
"Tales of the Vampire Make Way Into Colonial Press, Finding Captive Audience," Hartford Courant, Oct. 24, 1999.
David Brown, "Uncovering a Therapy From the Grave," Washington Post, Oct. 25, 1993.
Sam Libby, "Cemetery Holds Tales of Vampires," New York Times, Feb. 16, 1992.
"Did Mercy Brown Become a Vampire?" [New London, Ct.] Day, Oct. 25, 1981.
"Romance in Origin of Superstitions," Omaha Daily Bee, Jan. 11, 1921.
Andrew Lange, "The Common Vampire," Washington Post, Aug. 21, 1904.
"Lang on the Vampire," Saint Paul Globe, Aug. 7, 1904.
"Believe in Vampires," Boston Globe, Jan. 27, 1896.
"Is Consumption Catching?" Quebec Saturday Budget, June 1, 1895.
"Did Vampires Really Stalk New England Farm Families?" New England Historical Society (accessed March 7, 2021).
Edgar B. Herwick III, "It's Not Just Witches. New England Has a History With Vampires, Too," The World, PRI, Oct. 31, 2018.
Listener mail:
David Mikkelson, "Letter Exchange Between Law Firm and Cleveland Browns," Snopes, Jan. 19, 2011.
Casey C. Sullivan, "Is This the Best Legal Response Letter Ever?" FindLaw, Aug. 2, 2016.
David Seideman, "Lady Struck Twice by Foul Balls Hit by Phillies' Richie Ashburn in the Same at Bat," Forbes, Sept. 21, 2017.
David Donovan, "Litigant Cries Foul Over Court's Baseball Rule," North Carolina Lawyers Weekly, Jan. 8, 2021.
"1955 Le Mans Disaster," Wikipedia (accessed March 11, 2021).
"Race Car at Le Mans Crashes Into Spectators, Killing 82," History.com, June 9, 2020.
"When Riders Attack: Memorable Scuffles From Recent Cycling History," Cyclingnews, March 20, 2020.
"Froome's Spectator Punch: How Does It Stack Up?" VeloNews (accessed March 13, 2021).
This week's lateral thinking puzzle was contributed by listener Saphia Fleury. Here's a corroborating link (warning — this spoils the puzzle).
You can listen using the player above, download this episode directly, or subscribe on Google Podcasts, on Apple Podcasts, or via the RSS feed at https://futilitycloset.libsyn.com/rss.
Please consider becoming a patron of Futility Closet — you can choose the amount you want to pledge, and we've set up some rewards to help thank you for your support. You can also make a one-time donation on the Support Us page of the Futility Closet website.
Many thanks to Doug Ross for the music in this episode.
If you have any questions or comments you can reach us at podcast@futilitycloset.com. Thanks for listening!