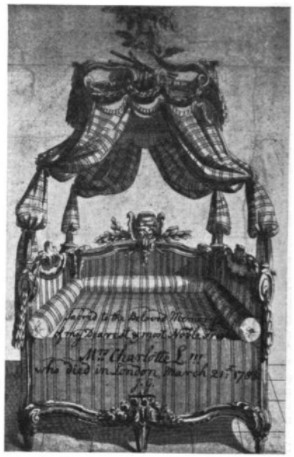 In 1770 Scottish sexologist James Graham moved to America and offered the "celestial bed," a 12-foot "wonder-working edifice" in which "everything is done to assist the ethereal, magnetic, musical and electric influences, and to make the lady look as lovely as possible in the eyes of her husband and he, in hers":
"On the utmost summit of the dome are placed two exquisite figures of Cupid and Psyche, with a figure of Hymen behind, with his torch flaming with electrical fire in one hand and with the other, supporting a celestial crown, sparkling over a pair of living turtle doves, on a little bed of roses.
"The other elegant group of figures which sport on the top of the dome, having each of them musical instruments in their hands, which by the most expensive mechanism, breathe forth sound corresponding to their instruments, flutes, guitars, violins, clarinets, trumpets, horns, oboes, kettle drums, etc.
"At the head of the bed appears sparkling with electrical fire a great first commandment: 'BE FRUITFUL, MULTIPLY AND REPLENISH THE EARTH'. Under that is an elegant sweet-toned organ in front of which is a fine landscape of moving figures, priest and bride's procession entering the Temple of Hymen."
For 50 guineas a childless couple could occupy the bed for one night; it would "infallibly produce a genial and happy issue."
He quickly ran out of money, sold most of his belongings, and decamped back to Edinburgh.
(From Roy Porter, Health for Sale: Quackery in England, 1660-1850, 1989.)