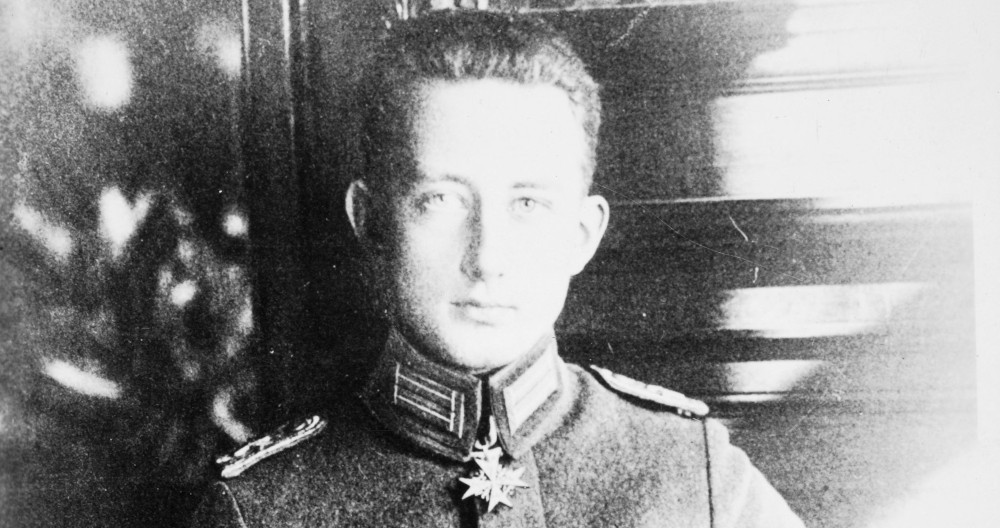 In 1917, German pilot Werner Voss had set out for a patrol over the Western Front when he encountered two flights of British fighters, including seven of the best pilots in the Royal Flying Corps. In this week's episode of the Futility Closet podcast we'll describe the drama that followed, which has been called "one of the most extraordinary aerial combats of the Great War."
We'll also honk at red lights in Mumbai and puzzle over a train passenger's mistake.
Intro:
The minuet in Haydn's Piano Sonata in A Major is a palindrome.
In 1909, Ulysses, Kansas, moved two miles west.
Sources for our feature on Werner Voss:
Barry Diggens, September Evening: The Life and Final Combat of the German World War One Ace Werner Voss, 2012.
Dan Hampton, Lords of the Sky: Fighter Pilots and Air Combat, From the Red Baron to the F-16, 2014.
Michael Dorflinger, Death Was Their Co-Pilot: Aces of the Skies, 2017.
Michael O'Connor, In the Footsteps of the Red Baron, 2005.
Norman S. Leach, Cavalry of the Air: An Illustrated Introduction to the Aircraft and Aces of the First World War, 2014.
O'Brien Browne, "Shooting Down a Legend," MHQ: The Quarterly Journal of Military History 23:2 (Winter 2011), 66.
Jon Guttman, "Aerial Warfare Revived the Ancient Drama of the One-on-One Duel," Military History 18:5 (December 2001), 6.
O'Brien Browne, "The Red Baron's Lone Wolf Rival," Aviation History 13:6 (July 2003), 30.
Jon Guttman, "The Third Battle of Ypres Saw the Death of an Idealistic Generation — in the Air as Well as on the Ground," Military History 14:5 (December 1997), 6.
Kirk Lowry, "September Evening: The Life and Final Combat of the German World War One Ace Werner Voss," Military History 22:6 (September 2005), 68.
O'Brien Browne, "The Perfect Soldier," Aviation History 22:1 (September 2011), 30-35.
David T. Zabecki, "Hallowed Ground German War Cemetery Langemark, Belgium," Military History 32:5 (January 2016), 76-77.
O'Brien Browne, "Deadly Duo," Aviation History 24:1 (September 2013), 44-49.
A.D. Harvey, "Why Was the Red Baron's Fokker Painted Red? Decoding the Way Aeroplanes Were Painted in the First World War," War in History 8:3 (2001), 323-340.
Dick Smith, "Build Your Own Fokker F.I Triplane," Aviation History 13:6 (July 2003), 37.
James Lawrence, "A Victory That Vanished in the Mire," Times, May 20, 2017, 16.
Robert Hands, "'Master of the Skies for a Fleeting Moment': A Brief and Brilliant Life — Arthur Rhys Davids Was a Pioneering Pilot in the First World War," Times, July 3, 2010, 108.
Karen Price, "World War I, by Four Men Who Were There," Western Mail, Aug. 19 2006, 24.
Meir Ronnen, "Death in the Mud," Jerusalem Post, Nov. 10, 1989, 14.
"Famous 'Aces' Downed; Friend and Foe Lose," Madison [S.D.] Daily Leader, Feb. 14, 1918.
Listener mail:
Hannah Ellis-Petersen, "'Honk More, Wait More': Mumbai Tests Traffic Lights That Reward the Patient Driver," Guardian, Feb. 5, 2020.
Rory Sullivan and Esha Mitra, "Mumbai Tests Traffic Lights That Stay Red If You Honk Your Horn," CNN, Feb. 5, 2020.
Jeffrey Gettleman, "Mumbai Police Play a Trick on Honking Drivers," New York Times, Feb. 4, 2020.
"The Punishing Signal in Collaboration With Mumbai Police," FCB Interface Communications, Jan. 30, 2020.
"Killer's Remains Will Stay in Museum," East Anglian Daily Times, March 23, 2007.
This week's lateral thinking puzzle was contributed by listener Marie Nearing, who sent this corroborating link (warning — this spoils the puzzle).
You can listen using the player above, download this episode directly, or subscribe on Google Podcasts, on Apple Podcasts, or via the RSS feed at https://futilitycloset.libsyn.com/rss.
Please consider becoming a patron of Futility Closet — you can choose the amount you want to pledge, and we've set up some rewards to help thank you for your support. You can also make a one-time donation on the Support Us page of the Futility Closet website.
Many thanks to Doug Ross for the music in this episode.
If you have any questions or comments you can reach us at podcast@futilitycloset.com. Thanks for listening!