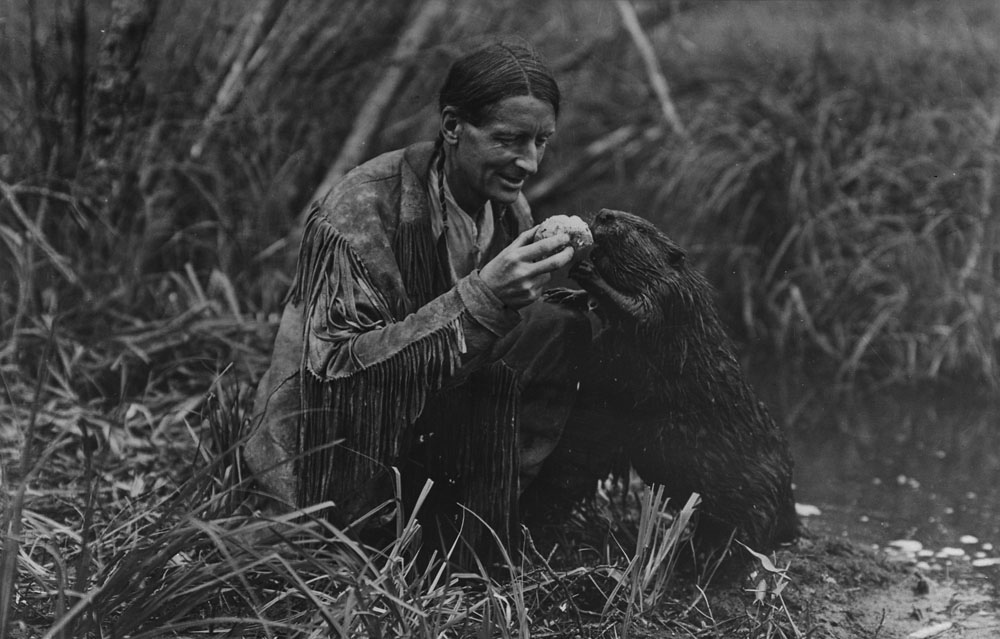 In the 1930s the world's best-known conservationist was an ex-trapper named Grey Owl who wrote and lectured ardently for the preservation of the Canadian wilderness. At his death, though, it was discovered that he wasn't who he'd claimed to be. In this week's episode of the Futility Closet podcast we'll tell the story of his curious history and complicated legacy.
We'll also learn how your father can be your uncle and puzzle over a duplicate record.
Intro:
Dutch engineer Theo Jansen builds sculptures that walk.
Helen Fouché Gaines' 1956 cryptanalysis textbook ends with a cipher that "nobody has ever been able to decrypt."
Sources for our feature on Grey Owl:
Donald B. Smith, From the Land of Shadows: The Making of Grey Owl, 2000.
Albert Braz, Apostate Englishman: Grey Owl the Writer and the Myths, 2015.
Jane Billinghurst, Grey Owl: The Many Faces of Archie Belaney, 1999.
Allison Mitcham, Grey Owl's Favorite Wilderness Revisited, 1991.
Lovat Dickson, Wilderness Man: The Strange Story of Grey Owl, 1973.
Anahareo, Devil in Deerskins: My Life With Grey Owl, 1972.
James Polk, Wilderness Writers, 1972.
Brian Bethune, "Truth and Consequences," Maclean's 112:40 (Oct. 4, 1999), 58.
Kenneth Brower, "Grey Owl," Atlantic 265:1 (January 1990), 74-84.
Trent Frayne, "Grey Owl the Magnificent Fraud," Maclean's 64 (Aug. 1, 1951), 14-16, 37-39.
Dane Lanken, "The Vision of Grey Owl," Canadian Geographic 119:2 (March/April 1999), 74-80.
Fenn Stewart, "Grey Owl in the White Settler Wilderness: 'Imaginary Indians' in Canadian Culture and Law," Law, Culture and the Humanities 14:1 (Oct. 8, 2014), 161-181.
Kevin Young, "Cowboys & Aliens," Kenyon Review 39:6 (November/December 2017), 10-32.
David Chapin, "Gender and Indian Masquerade in the Life of Grey Owl," American Indian Quarterly 24:1 (Winter 2000), 91-109.
John Hayman, "Grey Owl's Wild Goose Chase," History Today 44:1 (January 1994), 42.
Mark Collin Reid, "Grey Owl," Canada's History 95:5 (October/November 2015), 14-15.
Donald B. Smith, "Belaney, Archibald Stansfeld [called Grey Owl]," Oxford Dictionary of National Biography, Sept. 23, 2004.
Donald B. Smith, "Belaney, Archibald Stansfeld, Known as Grey Owl and Wa-sha-quon-asin," in Dictionary of Canadian Biography, Vol. 16, University of Toronto/Université Laval, 2003 (accessed Jan. 5, 2020).
Donald B. Smith, "Archibald Belaney, Grey Owl," The Canadian Encyclopedia, June 17, 2008 (accessed Jan. 5, 2020).
Susan Griffith, "Grey Owl: Champion of the Canadian Wilderness," Independent, Nov. 12, 2015.
Jane Onyanga-Omara, "Grey Owl: Canada's Great Conservationist and Imposter," BBC News, Sept. 19, 2013.
James H. Marsh, "Grey Owl's Great Deception," CanWest News, Sept. 17, 2003, 1.
Tony Lofaro, "Why I Kept Grey Owl's Secret," Ottawa Citizen, Sept. 21, 1999, D3.
Peter Unwin, "The Fabulations of Grey Owl," The Beaver 79:2 (April 1999), 13-19.
Henrietta Smyth, "Grey Owl Returns to England," North Bay [Ontario] Nugget, April 3, 1999, B1.
"Grey Owl," New York Times, April 17, 1938.
"Service Honors Grey Owl," New York Times, April 16, 1938.
"Grey Owl, Worker for Conservation," New York Times, April 14, 1938.
"Doctor and Nurse to Beavers in Canada Is Indian Grey Owl," New York Times, June 24, 1934.
"Do You Know?", Roanoke Rapids [N.C.] Herald, Nov. 24, 1932, 2.
Listener mail:
Roger Schlueter, "Getting a Bone Marrow Transplant Could Give You New DNA, Too," Belleville [Ill.] News-Democrat, Jan. 16, 2018.
"She's Her Own Twin," ABC News, Aug. 15, 2006.
Wikipedia, "Lydia Fairchild" (accessed Jan. 8, 2020).
Wikipedia, "Chimera (Genetics)" (accessed Jan. 9, 2020).
Jessica Richardson, "Man Fails Paternity Test Due to Passing on Unborn Twin's DNA," BioNews, Nov. 2, 2015.
Alice Park, "How a Man's Unborn Twin Fathered His Child," Time, Oct. 28, 2015.
Heather Murphy, "When a DNA Test Says You're a Younger Man, Who Lives 5,000 Miles Away," New York Times, Dec. 7, 2019.
Heather Murphy, "The Case of a Man With Two Sets of DNA Raises More Questions," New York Times, Dec. 12, 2019.
Carl Zimmer, "In the Marmoset Family, Things Really Do Appear to Be All Relative," New York Times, March 27, 2007.
This week's lateral thinking puzzle was contributed by listener Paul Kapp.
You can listen using the player above, download this episode directly, or subscribe on Google Podcasts, on Apple Podcasts, or via the RSS feed at https://futilitycloset.libsyn.com/rss.
Please consider becoming a patron of Futility Closet — you can choose the amount you want to pledge, and we've set up some rewards to help thank you for your support. You can also make a one-time donation on the Support Us page of the Futility Closet website.
Many thanks to Doug Ross for the music in this episode.
If you have any questions or comments you can reach us at podcast@futilitycloset.com. Thanks for listening!