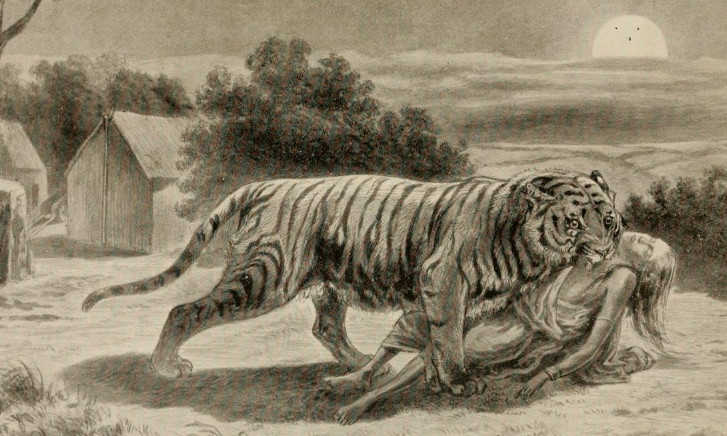 At the turn of the 20th century, a rogue tiger terrorized the villages of Nepal and northern India. By the time British hunter Jim Corbett was called in, it had killed 434 people. In this week's episode of the Futility Closet podcast we'll describe Corbett's pursuit of the elusive cat, and his enlightened efforts to address the source of the problem.
We'll also revisit a Confederate spy and puzzle over a bloody ship.
Intro:
Ralph Beaman devised a sentence that ends with 15 prepositions.
The stones of Pennsylvania's Ringing Rocks Park chime when struck.
Sources for our feature on the Champawat tiger:
Jim Corbett, Man-Eaters of Kumaon, 1944.
Dane Huckelbridge, No Beast So Fierce: The Terrifying True Story of the Champawat Tiger, the Deadliest Man-Eater in History, 2019.
Hemanta Mishra, Bones of the Tiger: Protecting the Man-Eaters of Nepal, 2010.
Nayanika Mathur, Paper Tiger, 2016.
Sujeet Kumar Singh, et al., "Understanding Human–Tiger Conflict Around Corbett Tiger Reserve India: A Case Study Using Forensic Genetics," Wildlife Biology in Practice 11:1 (June 2015), 1-11.
Iti Roychowdhury, "Man Eaters and the Eaten Men: A Study of the Portrayal of Indians in the Writings of Jim Corbett," Research Journal of English Language and Literature 5:1 (January-March 2017), 37-41.
A.J.T. Johnsingh, "Status and Conservation of the Tiger in Uttaranchal, Northern India," AMBIO: A Journal of the Human Environment 35:3 (May 2006), 135-137.
Jim Doherty, "Tigers at the Gate," Smithsonian 32:10 (January 2002), 66-67.
Sarah Zielinski, "How a Tiger Transforms Into a Man-Eater," Science News, March 19, 2019.
Adele Conover, "The Object at Hand," Smithsonian 26:8 (November 1995), 28.
"Jim Corbett Dies; Big-Game Hunter; Told of His Exploits Against Indian Killer Tigers in 'Man-Eaters of Kumaon,'" New York Times, April 21, 1955.
"Champawat Residents Remember Jim Corbett on Birth Anniversary," Hindustan Times, July 26, 2017.
"The Remarkable Legacy of Tiger Jim," Independent, Nov. 1, 2007, 38.
Michael T. Kaufman, "Tiger, Protected From Man, Flourishes Again in India; The Tiger, Protected, Prospers in India Tiger Cubs Live Longer A Special Counting Method," New York Times, Sept. 16, 1980.
Christine Hauser, "Number of Tigers in the Wild Is Rising, Wildlife Groups Say," New York Times, April 11, 2016.
"A Hunter Who Went on to Save the Hunted," The Hindu, Nov. 10, 2018.
"Remembering Corbett! A Legend, Man of Many Parts," [New Delhi] Pioneer, July 26, 2015.
"The Tiger Hunter Who Earned His Stripes," Sunday Telegraph, Oct. 13, 2019, 16.
Vineet Upadhyay, "Jim Corbett's 100-Yr-Old Rifle Returns Home to His Village," Economic Times, April 6, 2016.
Dane Huckelbridge, "How to Ensure Tigers Come Roaring Back," Globe and Mail, Feb. 9, 2019, O.5.
D.B.N. Murthy, "It Is Jim Corbett's Country," Alive 365 (March 2013), 48-50.
Gregory Crouch, "'No Beast So Fierce' Review: The Making of a Killer," Wall Street Journal, Feb. 4, 2019.
R. Raj Rao, "'No Beast So Fierce: The Champawat Tiger and Her Hunter, the First Tiger Conservationist' by Dane Huckelbridge: In the Forests of the Night," The Hindu, May 11, 2019.
Bill Purves, "History's Deadliest Single Animal? Story of the Killer Indian Tiger and the Man Who Hunted It Down Detailed in New Book," South China Morning Post, March 6, 2019.
Listener mail:
The Patreon posts mentioned in the listener mail segment are "Greenhow Misgivings" (discussing the problem) and "Followup to 'Greenhow Misgivings'" (describing the measures we took).
This week's lateral thinking puzzle was contributed by listener Steven Jones.
You can listen using the player above, download this episode directly, or subscribe on Google Podcasts, on Apple Podcasts, or via the RSS feed at https://futilitycloset.libsyn.com/rss.
Please consider becoming a patron of Futility Closet — you can choose the amount you want to pledge, and we've set up some rewards to help thank you for your support. You can also make a one-time donation on the Support Us page of the Futility Closet website.
Many thanks to Doug Ross for the music in this episode.
If you have any questions or comments you can reach us at podcast@futilitycloset.com. Thanks for listening!