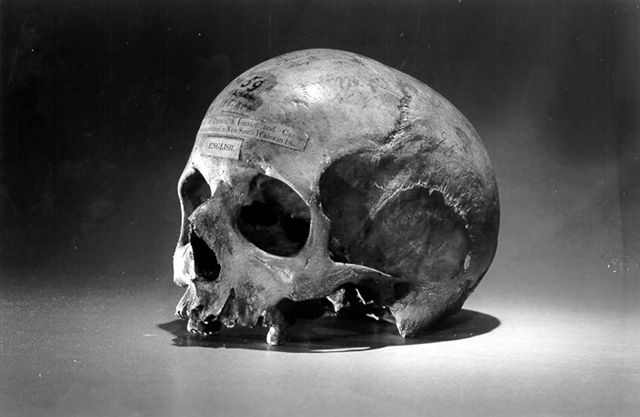 In 1822, Irish thief Alexander Pearce joined seven convicts fleeing a penal colony in western Tasmania. As they struggled eastward through some of the most inhospitable terrain on Earth, starvation pressed the party into a series of grim sacrifices. In this week's episode of the Futility Closet podcast we'll follow the prisoners on their nightmarish bid for freedom.
We'll also unearth another giant and puzzle over an eagle's itinerary.
Intro:
Two presenters at an 1884 AAAS meeting reported on "musical sand" at Manchester-by-the-Sea, Mass.
In scenes of pathos, Charles Dickens often slipped into blank verse.
Sources for our feature on Alexander Pearce:
Paul Collins, Hell's Gates, 2014.
Robert Hughes, The Fatal Shore: The Epic of Australia's Founding, 2012.
Robert Cox, A Compulsion to Kill: The Surprising Story of Australia's Earliest Serial Killers, 2014.
Jane Stadler, Peta Mitchell, and Stephen Carleton, Imagined Landscapes: Geovisualizing Australian Spatial Narratives, 2015.
"Alexander Pearce," Convict Records of Australia (accessed Oct. 27, 2019).
Roger W. Byard and Hamish Maxwell-Stewart, "Cannibalism Amongst Penitentiary Escapees From Sarah Island in Nineteenth Century Van Diemen's Land," Forensic Science, Medicine and Pathology 1:3 (September 2018), 410–415.
Therese-Marie Meyer, "Prison Without Walls: The Tasmanian Bush in Australian Convict Novels," Antipodes 27:2 (December 2013), 143-148.
Michael A. Ashby and Leigh E. Rich, "Eating People Is Wrong … or How We Decide Morally What to Eat," Journal of Bioethical Inquiry 10:2 (June 2013), 129–131.
Gananath Obeyesekere, "'British Cannibals': Contemplation of an Event in the Death and Resurrection of James Cook, Explorer," Critical Inquiry 18:4 (Summer 1992), 630-654.
Craig Cormick, "Confessions of a Cannibal," MARGIN: Monash Australiana Research Group Informal Notes, Issue 62, April 2004.
Cassie Crofts, "Australian History: The Cannibal Convict," National Geographic, Jan. 8, 2016.
"Alexander Pearce," Australian Geographic (accessed Oct. 27, 2019).
Simon Morris, "No Person Can Tell What He Will Do When Driven by Hunger," Australian Geographic 94 (April-June 2009), 74-79.
"The Convict Cannibal," Australian Geographic 94 (April-June 2009), 77.
Tim Kroenert, "Cannibal Convict's Tour of Hell," Eureka Street 19:18 (Sept. 25, 2009), 5-7.
"John Hagan: On the Trail of a Cannibal," Belfast Telegraph, May 12, 2007, 1.
Paul Kalina, "Grisly Confession of a Cannibal Convict: Cover Story," The Age, Jan. 22, 2009, 12.
Christopher Bantick, "Mind of a Maneater," Sunday Tasmanian, Aug. 10, 2008, A.8.
Rebecca Fitzgibbon, "Our Own Breed of Horror," Sunday Tasmanian, Nov. 2, 2008, 68.
Anita Beaumont, "Cannibal Convicts: Cover Story," [Newcastle, N.S.W.] Herald, Jan. 23, 2009, 5.
Fran Cusworth, "Meat on the Hoof," [Melbourne] Herald Sun, Dec. 7, 2002, W.21.
"A Real Life Horror Story of the Irish Cannibal Who Terrorized Australia," IrishCentral, Oct. 4, 2018.
Rebecca Fitzgibbon, "Heart of Darkness," Sunday Tasmanian, Sept. 20, 2009, 25.
LJ Charleston, "'We Ate Each Other One by One': The Gruesome Story of Alexander Pearce the Cannibal Convict," news.com.au, May 5, 2019.
Greg Clarke, "Heavenly Signs at Gates to Hell," Sunday Tasmanian, Aug. 3, 2008, A.18.
"Colonial Crime: Alexander Pearce, the Cannibal," Nightlife, Australian Broadcasting Corporation, Dec. 20, 2018.
"Alexander Pearce (1790 – 1824)," WikiTree (accessed Nov. 1, 2019).
Listener mail:
A. Glenn Rogers, "The Taughannock Giant," Life in the Finger Lakes, 1953.
Charley Githler, "A Look Back At: Home-Grown Hoax: The Taughannock Giant," [Ithaca, N.Y.] Tompkins Weekly, Dec. 26, 2017.
Charley Githler, "Local Legend: The Taughannock Giant," Ithaca.com, June 15, 2019.
This week's lateral thinking puzzle was devised by Sharon. Here are two corroborating links (warning — these spoil the puzzle).
You can listen using the player above, download this episode directly, or subscribe on Google Podcasts, on Apple Podcasts, or via the RSS feed at https://futilitycloset.libsyn.com/rss.
Please consider becoming a patron of Futility Closet — you can choose the amount you want to pledge, and we've set up some rewards to help thank you for your support. You can also make a one-time donation on the Support Us page of the Futility Closet website.
Many thanks to Doug Ross for the music in this episode.
If you have any questions or comments you can reach us at podcast@futilitycloset.com. Thanks for listening!