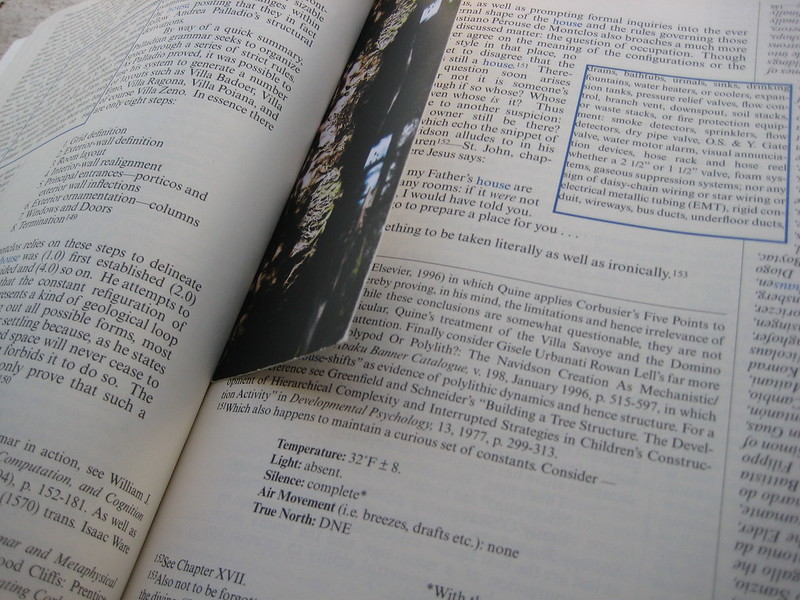 Adam Thirlwell's 2012 novel Kapow! and Mark Z. Danielewski's 2000 House of Leaves (above) are typeset unconventionally, with some text appearing in separate blocks, aslant, and even upside down.
To create his 2010 book Tree of Codes, Jonathan Safran Foer took Bruno Schulz's 1934 short story collection The Street of Crocodiles and physically cut out most of the words to produce a new story.
Marc Saporta's 1962 novel Composition No. 1 consists of 150 unbound pages that can be read in any order.
Anne Carson's 2010 Nox is an accordion-folded facsimile of a handmade book of memories of her brother, including old letters, family photos, and sketches.
Holes have been cut in several of the pages in B.S. Johnson's 1964 novel Albert Angelo, allowing the reader to glimpse events further ahead in the story.
The plot of Serbian novelist Milorad Pavić's 1988 Landscape Painted With Tea is constructed like a crossword puzzle, with chapters that can be read "across" or "down." "The solution of the puzzle is supposed to lead to the solution of life."