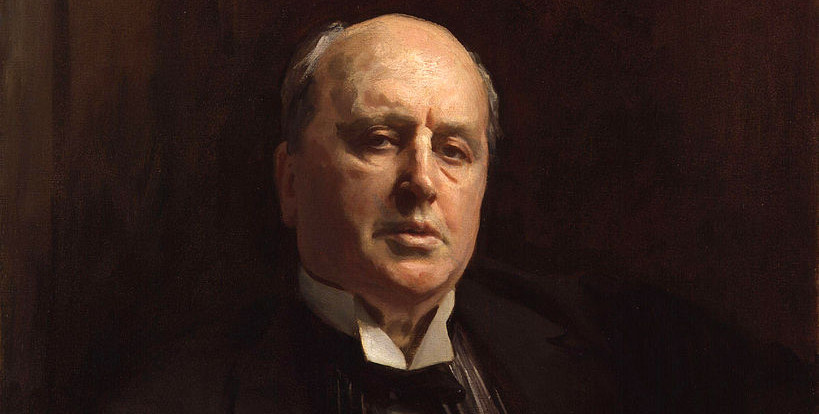 Max Beerbohm wrote two parodies of Henry James' impenetrable style. The first, "The Mote in the Middle Distance," appeared in The Saturday Review in 1906:
It was with the sense of a, for him, very memorable something that he peered now into the immediate future, and tried, not without compunction, to take that period up where he had, prospectively, left it. But just where the deuce had he left it? The consciousness of dubiety was, for our friend, not, this morning, quite yet clean-cut enough to outline the figures on what she had called his 'horizon,' between which and himself the twilight was indeed of a quality somewhat intimidating. He had run up, in the course of time, against a good number of 'teasers;' and the function of teasing them back — of, as it were, giving them, every now and then, "what for" — was in him so much a habit that he would have been at a loss had there been, on the face of it, nothing to lose.
He wrote the second, "The Guerdon," when he learned that James was about to receive the Order of Merit:
That it hardly was, that it all bleakly and unbeguilingly wasn't for "the likes" of him — poor decent Stamfordham — to rap out queries about the owner of the to him unknown and unsuggestive name that had, in these days, been thrust on him with such a wealth of commendatory gesture, was precisely what now, as he took, with his prepared list of New Year colifichets and whatever, his way to the great gaudy palace, fairly flicked his cheek with the sense of his having never before so let himself in, as he ruefully phrased it, without letting anything, by the same token, out.
He wasn't alone. "It's not that he bites off more than he can chaw," Clover Adams once wrote of James, "but he chaws more than he bites off."