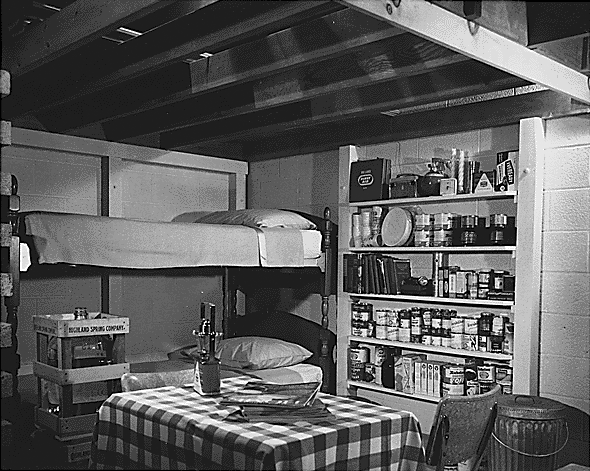 At a 1962 meeting on civil defense, one local resident of Hartford, Conn., warned the rest that his fallout shelter contained only enough food and water for his immediate family, and so during a nuclear attack he'd be forced to shoot any who tried to join them. His neighbor appealed to him:
'John,' she said, 'you and your family have been our closest friends for ten years. Do you mean to say that if this city was bombed and my baby and I were caught in the open, and we were hurt, and came to your shelter you would turn us away?'

John nodded in the affirmative. His neighbor pressed the point.

'But suppose we wouldn't turn away and begged to get in?'

'It would be too bad,' John said. 'You should have built a shelter of your own. I've got to look out for my own family.'

'But suppose we had built a shelter of our own, yet were caught by surprise, being out in the open at the time of an attack, and we discovered that the entrance to our shelter was covered with rubble and we had no place to turn except to you. Would you still turn us back?'

The answer was still yes.

'But suppose I wouldn't go away and kept trying to get in. Would you shoot us?'

John said that if the only way he could keep his friend out would be by shooting her and her baby, he would have to do it.
These questions raised disagreements even among clergymen during the Cold War. In an article titled "Ethics at the Shelter Doorway," Father L.C. McHugh urged his readers to "think twice before you rashly give your family shelter space to friends and neighbors or to the passing stranger." The nondenominational Christian Century opposed this sentiment. "Men and women who manage to survive a nuclear attack by locking doors on imperiled neighbors or shooting them down to save themselves might conceivably survive," the editors wrote. "But who would want to live in the kind of social order such people would create out of the shambles?"
(From Kenneth D. Rose, One Nation Underground: The Fallout Shelter in American Culture, 2001.)