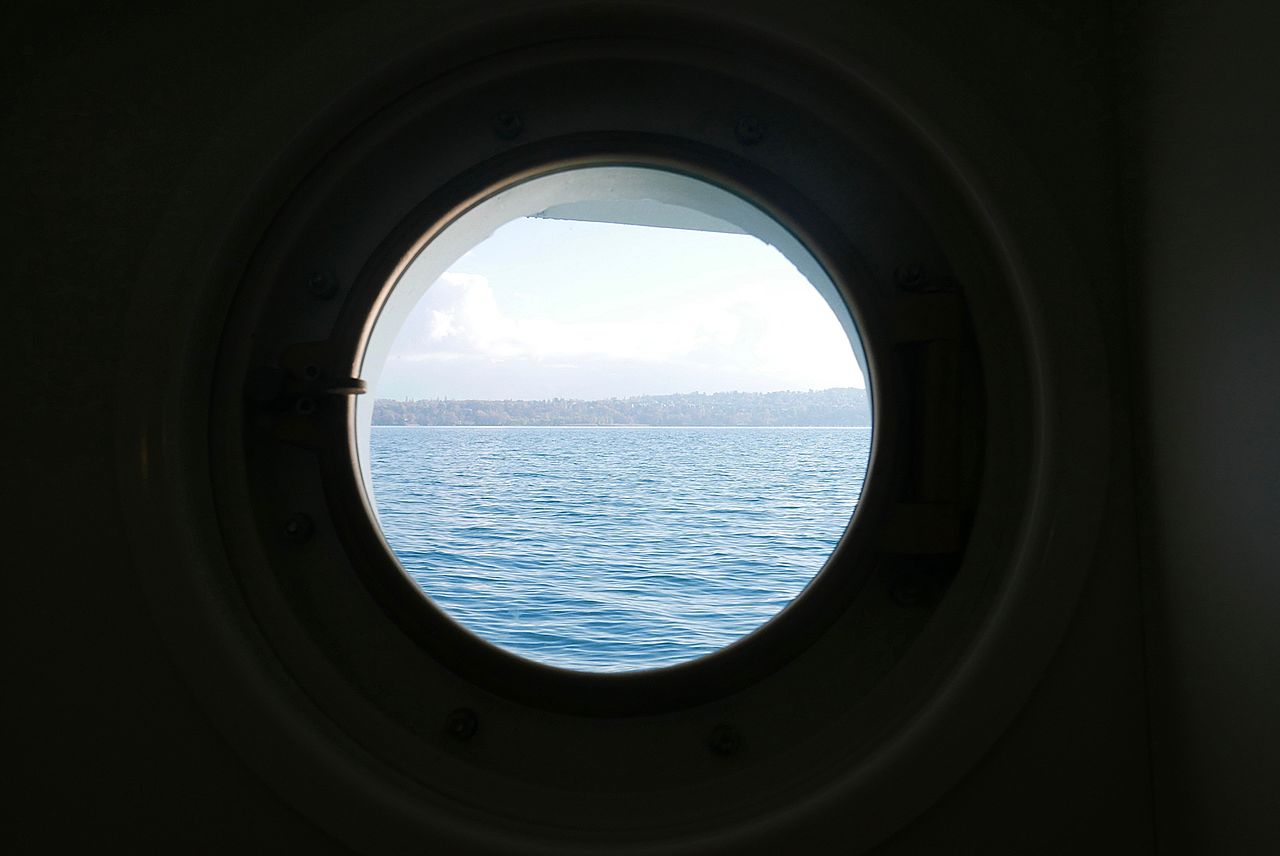 In 1947 actress Gay Gibson disappeared from her cabin on an ocean liner off the coast of West Africa. The deck steward, James Camb, admitted to pushing her body out a porthole, but insisted she had died of natural causes and not in a sexual assault. In this week's episode of the Futility Closet podcast we'll review the curious case of the porthole murder, which is still raising doubts today.
We'll also explore another fraudulent utopia and puzzle over a pedestrian's victory.
Intro:
Soldiers in World War I described "shell sense" — an uncanny foreknowledge of imminent shellfire.
British artist Patrick Hughes creates three-dimensional paintings that reverse the traditional rules of perspective.
Sources for our feature on the death of Gay Gibson:
Geoffrey Clark, ed., Trial of James Camb, 1949.
Colin Evans, The Casebook of Forensic Detection: How Science Solved 100 of the World's Most Baffling Crimes, 2007.
Robin Odell and Wilfred Gregg, Murderers' Row: An International Murderers' Who's Who, 2011.
J.F. Northey, "Murder. Proof of Corpus Delicti," Modern Law Review 15:3 (July 1952), 348-351.
Lee Aitken, "Interpreting R V Baden-Clay: 'Discovering the Inward Intention', or 'What Lies Under the Veil'?", University of Queensland Law Journal 35:2 (2016) 301-311.
Robert Kennaugh, "Proving Murder Without a Body," De Rebus Procuratoriis 1969:24 (1969), 485-491.
Basil Hearde, "The Vanished Redhead in Cabin 126," Sea Classics 35:2 (February 2002), 54.
T. Mervyn Jones, "Trial of James Camb (The Port-Hole Murder) by Geoffrey Clark [review]," Cambridge Law Journal 10:3 (1950), 492-494.
H.A. Hammelmann, "The Trial of James Camb by Geoffrey Clark [review]," Modern Law Review 13:4 (October 1950), 546-547.
Richard Latto, "Porthole Murder: Did Gay Gibson Die From Natural Causes?", BBC News, March 22, 2018.
Laura Connor, "The Lady Vanishes," Paisley [Scotland] Daily Express, April 7, 2018, 8.
John Macklin, "Deathly Nightmare Comes True; The Murder He Saw in His Dreams Was Soon to Become a Brutal Fact," [Moncton, N.B.] Times & Transcript, Nov. 30, 2002.
"Murder Most Foul on Durban Castle: Liner Gains Notoriety After 'Porthole Killer' Dumps Woman's Body Overboard," [Durban, South Africa] Independent on Saturday, May 30, 2015, 11.
"Murder Conviction Without a Body," [Wellington, New Zealand] Dominion Post, May 5, 2018, A.8.
Listener mail:
Cory Turner and Clare Lombardo, "The Town That Hanged an Elephant Is Now Working to Save Them," All Things Considered, National Public Radio, May 15, 2019.
Bill Metcalf, "Utopian Fraud: The Marquis de Rays and La Nouvelle-France," Utopian Studies 22:1 (2011), 104-124.
Jordan Goodman, "Phantom Pacific Paradise: Was the Marquis De Rays' New France a Cleverly Plotted Scam or a Fantasy That Went Horribly Wrong?" Geographical 83:6 (June 2011), 26.
Wikipedia, "Marquis de Rays" (accessed June 13, 2019).
Wikipedia, "De Rays Expedition" (accessed June 13, 2019).
This week's lateral thinking puzzle was contributed by listener Karl Hiscock. Here are two related links.
You can listen using the player above, download this episode directly, or subscribe on Google Podcasts, on Apple Podcasts, or via the RSS feed at https://futilitycloset.libsyn.com/rss.
Please consider becoming a patron of Futility Closet — you can choose the amount you want to pledge, and we've set up some rewards to help thank you for your support. You can also make a one-time donation on the Support Us page of the Futility Closet website.
Many thanks to Doug Ross for the music in this episode.
If you have any questions or comments you can reach us at podcast@futilitycloset.com. Thanks for listening!