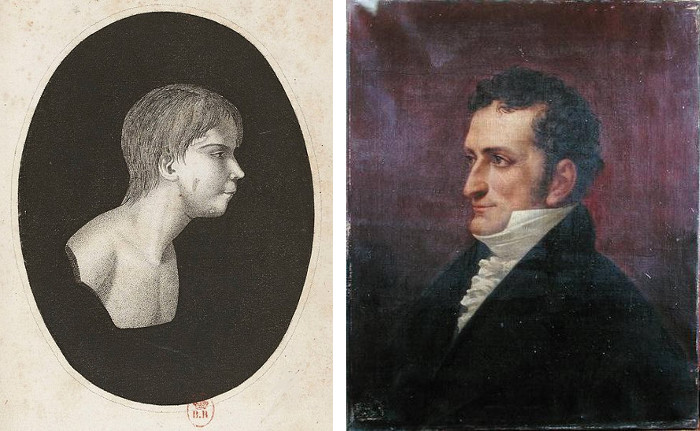 In 1800 a 12-year-old boy emerged from a forest in southern France, where he had apparently lived alone for seven years. His case was taken up by a young Paris doctor who set out to see if the boy could be civilized. In this week's episode of the Futility Closet podcast we'll explore the strange, sad story of Victor of Aveyron and the mysteries of child development.
We'll also consider the nature of art and puzzle over the relationship between salmon and trees.
Intro:
Reading Luc Étienne's expressions forward and backward produces sentences in different languages.
In 1883 John Maguire invented a raincoat that wouldn't make your legs wet.
Sources for our feature on Victor of Aveyron:
Harlan Lane, The Wild Boy of Aveyron, 1976.
Geoff Rolls, Classic Case Studies in Psychology, 2010.
Julia V. Douthwaite, The Wild Girl, Natural Man, and the Monster: Dangerous Experiments in the Age of Enlightenment, 2002.
Adriana S. Benzaquén, Encounters With Wild Children: Temptation and Disappointment in the Study of Human Nature, 2006.
Patrick McDonagh, Idiocy: A Cultural History, 2008.
Richard M. Silberstein and Helen Irwin, "Jean-Marc-Gaspard Itard and the Savage of Aveyron: An Unsolved Diagnostic Problem in Child Psychiatry," Journal of the American Academy of Child Psychiatry 1:2 (1962), 314-322.
Murray K. Simpson, "From Savage to Citizen: Education, Colonialism and Idiocy," British Journal of Sociology of Education 28:5 (September 2007), 561-574.
Annemieke1 van Drenth, "Sensorial Experiences and Childhood: Nineteenth-Century Care for Children With Idiocy," Paedagogica Historica 51:5 (October 2015), 560-578.
Raf Vanderstraeten and Gert Biesta, "How Is Education Possible? Pragmatism, Communication and the Social Organisation of Education," British Journal of Educational Studies 54:2 (June 2006), 160-174.
Patrick McDonagh, "The Mute's Voice: The Dramatic Transformations of the Mute and Deaf-Mute in Early-Nineteenth-Century France," Criticism 55:4 (Fall 2013), 655-675.
Nicole Simon, "Kaspar Hauser's Recovery and Autopsy: A Perspective on Neurological and Sociological Requirements for Language Development," Journal of Autism and Childhood Schizophrenia 8:2 (1978), 209-217.
Andrey Vyshedskiy, Rita Dunn, and Shreyas Mahapatra, "Linguistically Deprived Children: Meta-Analysis of Published Research Underlines the Importance of Early Syntactic Language Use for Normal Brain Development," RIO, Aug. 31, 2017, 846-857.
Nancy Yousef, "Savage or Solitary?: The Wild Child and Rousseau's Man of Nature," Journal of the History of Ideas 62:2 (April 2001), 245-263.
Kenneth Kidd, "Bruno Bettelheim and the Psychoanalytic Feral Tale," American Imago 62:1 (Spring 2005), 75-99.
Roger Shattuck, "The Wild Boy of Aveyron," New York Times, May 16, 1976.
Paul Sieveking, "Savage Behaviour: Children Who Really Are Running Wild," Sunday Telegraph, March 3, 2002, 37.
Listener mail:
Wikipedia, "Marcel Duchamp" (accessed May 29, 2019).
Wikipedia, "Fountain (Duchamp)" (accessed May 29, 2019).
"Art Term: Readymade," Tate (accessed May 29, 2019).
"Marcel Duchamp: Fountain, 1917, Replica 1964," Tate (accessed May 29, 2019).
"Duchamp's Urinal Tops Art Survey," BBC News, Dec. 1, 2004.
Jonathon Keats, "See Why This Urinal Was the Leading Artwork of the 20th Century (But Is Still Underappreciated)," Forbes, Nov. 8, 2017.
Wikipedia, "Andy Warhol" (accessed May 30, 2019).
"Lesson: Brillo: Is It Art?", Andy Warhol Museum (accessed June 1, 2019).
Philadelphia Museum of Art, "Brillo Boxes, Andy Warhol, American, 1928-1987" (accessed June 1, 2019).
Wikipedia, "Vocaloid" (accessed June 1, 2019).
Mark Jenkins, "This Singer Is Part Hologram, Part Avatar, and Might Be the Pop Star of the Future," Washington Post, July 5, 2018.
Hatsune Miku, "World Is Mine – Live HD," June 9, 2011.
"Lucky Orb feat. Hatsune Miku," May 6, 2019.
James Vincent, "This AI-Generated Joe Rogan Fake Has to Be Heard to Be Believed," The Verge, May 17, 2019 (contains explicit language).
This week's lateral thinking puzzle was devised by Sharon. Here's a corroborating link (warning — this spoils the puzzle).
You can listen using the player above, download this episode directly, or subscribe on Google Podcasts, on Apple Podcasts, or via the RSS feed at https://futilitycloset.libsyn.com/rss.
Please consider becoming a patron of Futility Closet — you can choose the amount you want to pledge, and we've set up some rewards to help thank you for your support. You can also make a one-time donation on the Support Us page of the Futility Closet website.
Many thanks to Doug Ross for the music in this episode.
If you have any questions or comments you can reach us at podcast@futilitycloset.com. Thanks for listening!