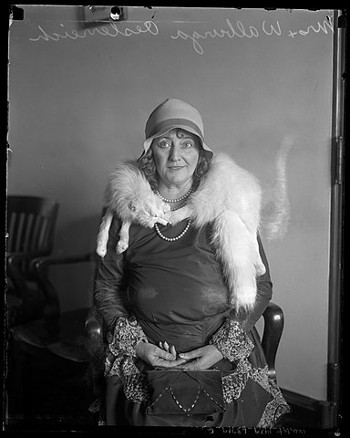 When Los Angeles police were alerted to gunshots at the home of Fred Oesterreich on Aug. 22, 1922, they found the wealthy clothier dead in his bedroom and his wife locked in the closet. She told them that burglars had killed Fred when he'd resisted them. The story seemed plausible — Fred's diamond watch was missing, and Dolly couldn't have locked herself in the closet — but it seemed odd that Fred had been killed with a .25-caliber handgun, a relatively modest choice for an armed robber.
The story held up for nearly a year, but then detectives learned that Dolly had offered a diamond watch to the attorney settling her husband's estate and had asked two other men to dispose of guns for her. She was jailed for murder, but detectives couldn't prove that the rusted guns had been used in the crime, and still no one could explain how Dolly could have locked herself in the closet when the key was found in the hall. Eventually the charges were dropped for lack of evidence.
Seven years went by before her attorney finally revealed the bizarre truth. In 1913 Dolly had seduced Otto Sanhuber, a sewing-machine repairman who had worked in her husband's factory. For nearly 10 years he'd lived in the Oesterreichs' house as Dolly's sex slave, hiding in the attic to evade Fred. On the night of the murder he'd heard the couple in a violent quarrel and emerged with two guns, astonishing Fred and, in a struggle, shooting him three times. He and Dolly had invented the tale of the burglary and he'd locked her in the closet. In jail she had begged the attorney to take food to a man in her attic. He'd thrown Otto out of the house but kept the secret because he and Dolly had become lovers themselves.
A jury found Otto guilty of manslaughter, but by that time the statute of limitations had passed. In a separate trial Dolly was charged with conspiracy but saved by a hung jury. She lived quietly thereafter until her death in 1961.
(Michael Parrish, For the People: Inside the Los Angeles County District Attorney's Office 1850-2000, 2001.)