Created by Franz Armbruster in 1967, "Instant Insanity" was the Rubik's Cube of its day, a simple configuration task with a dismaying number of combinations. You're given four cubes whose faces are colored red, blue, green, and yellow:

The task is to arrange them into a stack so that each of the four colors appears on each side of the stack. This is difficult to achieve by trial and error, as the cubes can be arranged in 41,472 ways, and only 8 of these give a valid solution.
One approach is to use graph theory — draw points of the four face colors and connect them to show which pairs of colors fall on opposite faces of each cube: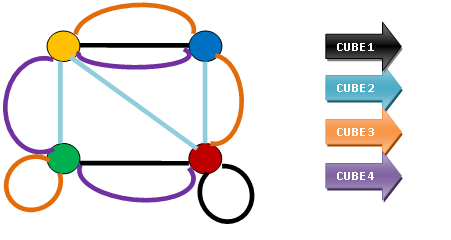 Then, using certain criteria (explained here), we can derive two directed subgraphs that describe the solution: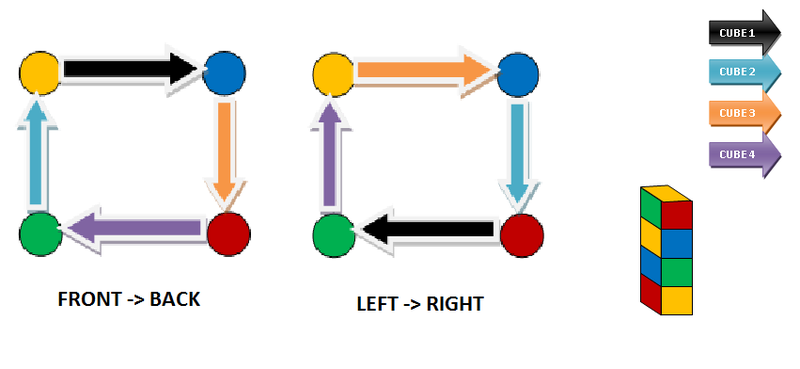 The first graph shows which colors appear on the front and back of each cube, the second which colors appear on the left and right. Each arrow represents one of the four cubes and the position of each of the two colors it indicates. So, for example, the black arrow at the top of the first graph indicates that the first cube will have yellow on the front face and blue on the rear.
This solution isn't unique, of course — once you've compiled a winning stack you can rotate it or rearrange the order of the cubes without affecting its validity. B.L. Schwartz gives an alternative method, through inspection of a table, as well as tips for solving by trial and error using physical cubes, in "An Improved Solution to 'Instant Insanity,'" Mathematics Magazine 43:1 (January 1970), 20-23.