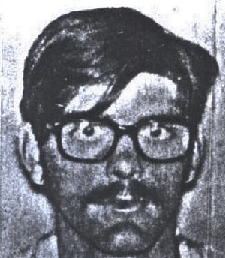 In February 1978, five young men disappeared after attending a college basketball game in Chico, California. Several days later their car was discovered high on a mountain road in Plumas National Forest, far from their route home to Yuba City. It was stuck in a snowdrift but could easily have been pushed free by five men; the gas tank was a quarter full.
In June, the bones of three of the men were found 20 miles deep in the forest. Inside a nearby trailer were the remains of a fourth, Ted Weiher, wrapped in eight sheets. He had died of starvation and hypothermia. His feet were badly frostbitten, his face bore 13 weeks' beard, he'd lost half his 200 pounds. The trailer was stocked with food and fuel, but he'd used none of it. Still missing was the fifth man, Gary Mathias (right), whose shoes were found in the trailer.
As it happened, a Sacramento man had been lying in his car on the same mountain road that night, suffering a mild heart attack. He told police he saw a car parked behind him during the night, surrounded by a group of people, but when he called for help they went silent and turned off their headlights. Later he saw flashlights, but these too went out when he called for aid.
Gary Mathias remains missing to this day. "We don't know what happened to them — we've a real mystery on our hands," Yuba County Undersheriff Jack Beecham said that March. "The prevalent theory is it could be anything."