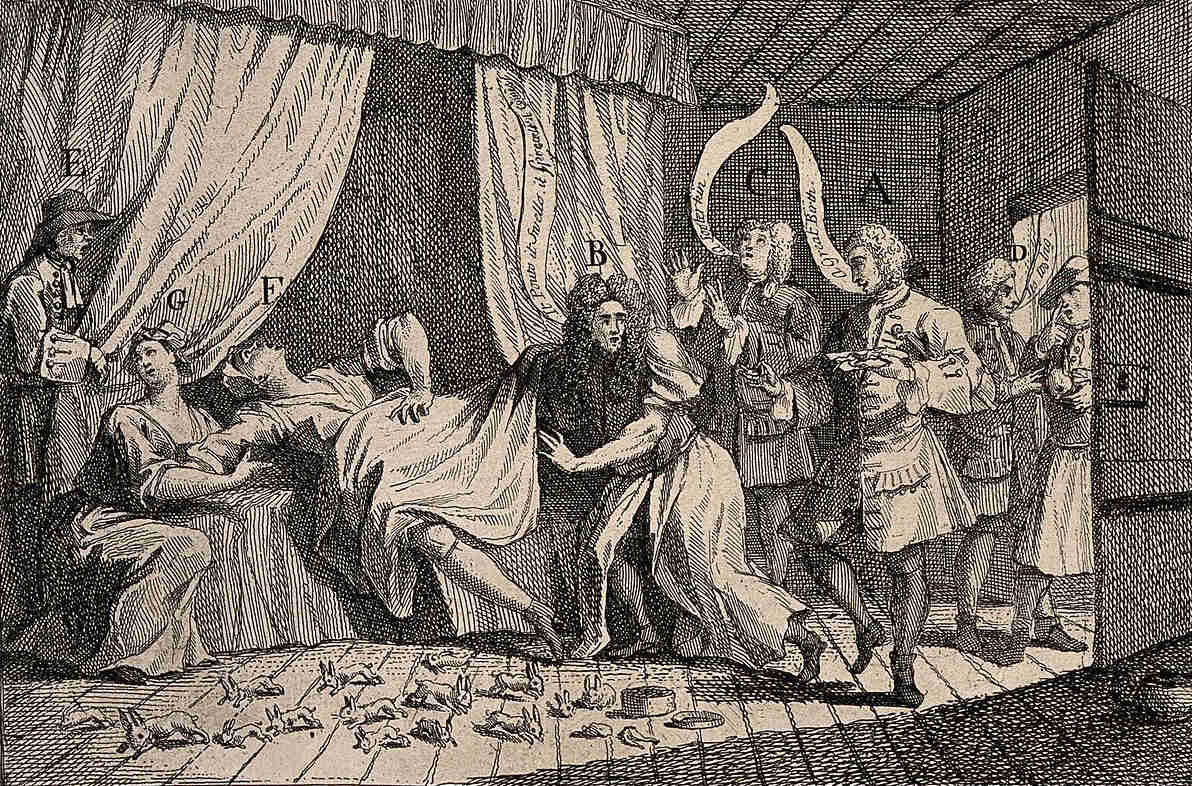 In 1726 London was rocked by a bizarre sensation: A local peasant woman began giving birth to rabbits, astounding the city and baffling the medical community. In this week's episode of the Futility Closet podcast we'll review the strange case of Mary Toft, which has been called "history's most fascinating medical mystery."
We'll also ponder some pachyderms and puzzle over some medical misinformation.
Intro:
The notion of music without substance raises some perplexing philosophical puzzles.
Japanese haiku master Masaoka Shiki wrote nine verses about baseball.
Sources for our feature on Mary Toft:
Dennis Todd, Imagining Monsters: Miscreations of the Self in Eighteenth-Century England, 1995.
Clifford A. Pickover, The Girl Who Gave Birth to Rabbits: A True Medical Mystery, 2000.
Richard Gordon, Great Medical Mysteries, 1984.
Lisa Forman Cody, Birthing the Nation: Sex, Science, and the Conception of Eighteenth-Century Britons, 2005.
Wendy Moore, "Of Rabbit and Humble Pie," British Medical Journal 338 (May 7, 2009).
Palmira Fontes da Costa, "The Medical Understanding of Monstrous Births at the Royal Society of London During the First Half of the Eighteenth Century," History and Philosophy of the Life Sciences 26:2 (2004), 157-175.
Lawrence Segel, "What's Up, Doc?" Medical Post 39:11 (March 18, 2003), 37.
Glennda Leslie, "Cheat and Impostor: Debate Following the Case of the Rabbit Breeder," Eighteenth Century 27:3 (Fall 1986), 269-286.
Bill Bynum, "Maternal Impressions," Lancet 359:9309 (March 9, 2002), 898.
Dolores Peters, "The Pregnant Pamela: Characterization and Popular Medical Attitudes in the Eighteenth Century," Eighteenth-Century Studies 14:4 (Summer 1981), 432-451.
S.A. Seligman, "Mary Toft — The Rabbit Breeder," Medical History 5:4 (1961), 349-360.
Charles Green Cumston, "The Famous Case of Mary Toft, the Pretended Rabbit Breeder of Godalming," American Journal of Obstetrics and Diseases of Women and Children 68:2 (August 1913), 274-300.
Nathaniel Saint-André, A Short Narrative of an Extraordinary Delivery of Rabbets, Perform'd by Mr John Howard, Surgeon at Guilford, 1727.
Sir Richard Manningham, An Exact Diary of What Was Observ'd During a Close Attendance Upon Mary Toft, the Pretended Rabbet-Breeder of Godalming in Surrey, From Monday Nov. 28, to Wednesday Dec. 7 Following, 1726.
Cyriacus Ahlers, Some Observations Concerning the Woman of Godlyman in Surrey, 1726.
Thomas Brathwaite, Remarks on a Short Narrative of an Extraordinary Delivery of Rabbets, Perform'd by Mr. John Howard, Surgeon at Guilford, 1726.
A Letter From a Male Physician in the Country, to the Author of the Female Physician in London; Plainly Shewing, That for Ingenuity, Probity, and Extraordinary Productions, he Far Surpasses the Author of the Narrative, 1726.
The Several Depositions of Edward Costen, Richard Stedman, John Sweetapple, Mary Peytoe, Elizabeth Mason, and Mary Costen; Relating to the Affair of Mary Toft, of Godalming in the County of Surrey, Being Deliver'd of Several Rabbits, 1727.
Jonathan Swift, The Anatomist Dissected: or the Man-Midwife Finely Brought to Bed, 1727.
"Merry Tuft," Much Ado About Nothing: or, a Plain Refutation of All That Has Been Written or Said Concerning the Rabbit-Woman of Godalming, 1727.
"Full and Impartial Relation and Detection of the Rabbit Imposture &c.," The Political State of Great Britain 32:12 (December 1726), 572-602.
Edward White, "An Extraordinary Delivery of Rabbits," Paris Review, July 5, 2016.
Listener mail:
Rasnov Fortress, Romania Tourism (accessed July 5, 2018).
Wikipedia, "Rasnov Citadel" (accessed July 5, 2018).
Wikipedia, "Polybius" (accessed July 5, 2018).
"Polybius," Encyclopaedia Britannica (accessed July 5, 2018).
"The British Alpine Hannibal Expedition," John Hoyte (accessed July 5, 2018).
Wikipedia, "War Elephant" (accessed July 5, 2018).
"Battle of the Trebbia River," Encyclopaedia Britannica (accessed July 5, 2018).
Philip Ball, "The Truth About Hannibal's Route Across the Alps," Guardian, April 3, 2016.
Paul Rodgers, "Tracing Hannibal's Elephants — With Dung," Forbes, April 5, 2016.
Franz Lidz, "How (and Where) Did Hannibal Cross the Alps?" Smithsonian, July 2017.
Michael B. Charles and Peter Rhodan, "'Magister Elephantorvm': A Reappraisal of Hannibal's Use of Elephants," The Classical World 100:4 (Summer 2007), 363-389.
S. O'Bryhim, "Hannibal's Elephants and the Crossing of the Rhône," The Classical Quarterly 41:1 (1991), 121-125.
This week's lateral thinking puzzle was contributed by listener Benjamin Busser, who was inspired by the "Peter Weinberger" episode of the Casefile podcast.
You can listen using the player above, download this episode directly, or subscribe on Apple Podcasts or Google Play Music or via the RSS feed at http://feedpress.me/futilitycloset.
Please consider becoming a patron of Futility Closet — you can choose the amount you want to pledge, and we've set up some rewards to help thank you for your support. You can also make a one-time donation on the Support Us page of the Futility Closet website.
Many thanks to Doug Ross for the music in this episode.
If you have any questions or comments you can reach us at podcast@futilitycloset.com. Thanks for listening!