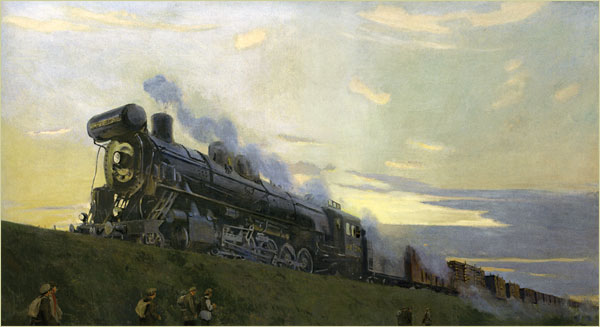 Panegyric to a train, from the Hurutshe people of South Africa:
Iron thing coming from Pompi, from the round-house
Where Englishmen smashed their hands on it,
It has no front it has no back.
Rhino Tshukudu going that way.
Rhino Tshukudu no, coming this way.
I'm no greenhorn, I'm a strong, skillful man.
Animal coming from Pompi, from Moretele.
It comes spinning out a spider's web under a cloud of gnats
Moved by the pulling of a teat, animal coming from Kgobola-diatla
Comes out of the big hole in the mountain, mother of the great woman,
Coming on iron cords.
I met this woman of the tracks curving her way along the river bank and over the river.
I thought I'd snatch her
So I said
"Out of the way, son of Mokwatsi, who stands there at the teat."
The stream of little red and white birds gathered up all of its track
Clean as a whistle.
Tshutshu over the dry plains
Rhino Tshukudu out of the high country
Animal from the south, steaming along
It comes from Pompi, the round-house, from Kgobola-diatla.
(Jerome Rothenberg, Technicians of the Sacred, 1968; Ruth Finnegan, Oral Literature in Africa, 2012.)