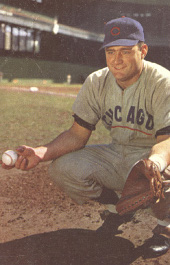 Catcher Harry Chiti pulled a sort of ontological sleight in 1962.
On April 25, while playing for the Cleveland Indians, he was acquired by the expansion New York Mets for a player to be named later.
Seven weeks later, on June 15, he was sent back to the Indians as the "player to be named later" — he'd been traded for himself.
Three other players have since achieved the same feat: Dickie Noles, Brad Gulden, and John McDonald.
(Thanks, Tom.)