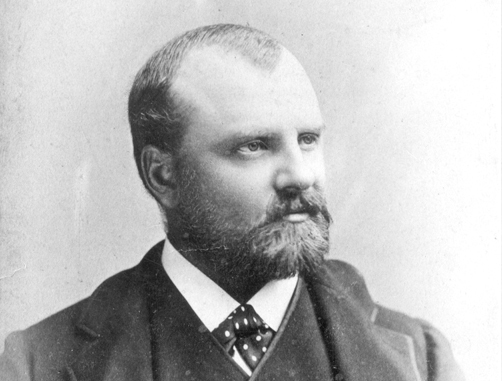 American geologist Clarence King led a strange double life in the late 1800s: He invented a second identity as a black railroad porter so he could marry the woman he loved, and then spent 13 years living separate lives in both white and black America. In this week's episode of the Futility Closet podcast we'll consider the extraordinary lengths that King went to in order to be with the woman he loved.
We'll also contemplate the dangers of water and puzzle over a policeman's strange behavior.
Intro:
Artists Tim Noble and Sue Webster arrange household trash to cast shadow self-portraits.
Participants 140 meters apart can hold an inaudible conversation across South Australia's Barossa Reservoir dam.
Sources for our feature on Clarence King:
Martha A. Sandweiss, Passing Strange, 2009.
Bill Croke, "The Many Lives of Clarence King," American Spectator, Feb. 28, 2011.
John Koster, "He Tried to Solve Earth's Mysteries And Left a Few Mysteries of His Own- Clarence King," Wild West, February 2014.
William Grimes, "Recalling a Geologist, Adventurer and Raconteur Whom Henry Adams Looked Up to," New York Times, Feb. 22, 2006.
David L. Beck, "A Geologist's Secret Life," St. Petersburg Times, April 12, 2009.
William Howarth, "Sex, Lies and Cyanide," Washington Post, May 20, 1990.
Michael K. Johnson, "Passing Strange," Western American Literature 44:4 (Winter 2010), 404-405.
Martha A. Sandweiss, "Ada Copeland King," American National Biography (accessed March 23, 2018).
Thurman Wilkins, "Clarence Rivers King," American National Biography (accessed March 23, 2018).
"American Lives: The 'Strange' Tale of Clarence King," Morning Edition, National Public Radio, Aug. 18, 2010.
Annette Gordon-Reed, "Color Blind," Washington Post, Feb. 22, 2009.
Jennifer Greenstein Altmann, "Sandweiss Unearths a Compelling Tale of Secret Racial Identity," Princeton University, Dec. 17, 2009.
Baz Dreisinger, "A Transracial Man," New York Times, March 5, 2009.
"American Lives: The 'Strange' Tale of Clarence King," WBUR News, Aug. 18, 2010.
Elinore Longobardi, "Two Lives," Columbia Journalism Review, Feb. 4, 2009.
"King Peak," Antarctica: An Encyclopedia, 2011.
Listener mail:
Wikipedia, "Bhopal Disaster" (accessed March 23, 2018).
Alan Taylor, "Bhopal: The World's Worst Industrial Disaster, 30 Years Later," Atlantic, Dec. 2, 2014.
An example of a current safety manual warning of the dangers of rust in steel tanks, from Gillian Brent.
"The Case of the Rusty Assassin," Maritime Accident Casebook (accessed March 25, 2018).
Steve Selden, "Polar Bear Encounters on Rise in Churchill," Churchill Polar Bills, Feb. 29, 2016.
A Colorado bear breaks into Rocky Mountain Chocolate Factory.
This week's lateral thinking puzzle was contributed by listener Scott Miller. Here's a corroborating link (warning — this spoils the puzzle).
You can listen using the player above, download this episode directly, or subscribe on iTunes or Google Play Music or via the RSS feed at http://feedpress.me/futilitycloset.
Please consider becoming a patron of Futility Closet — on our Patreon page you can pledge any amount per episode, and we've set up some rewards to help thank you for your support. You can also make a one-time donation on the Support Us page of the Futility Closet website.
Many thanks to Doug Ross for the music in this episode.
If you have any questions or comments you can reach us at podcast@futilitycloset.com. Thanks for listening!