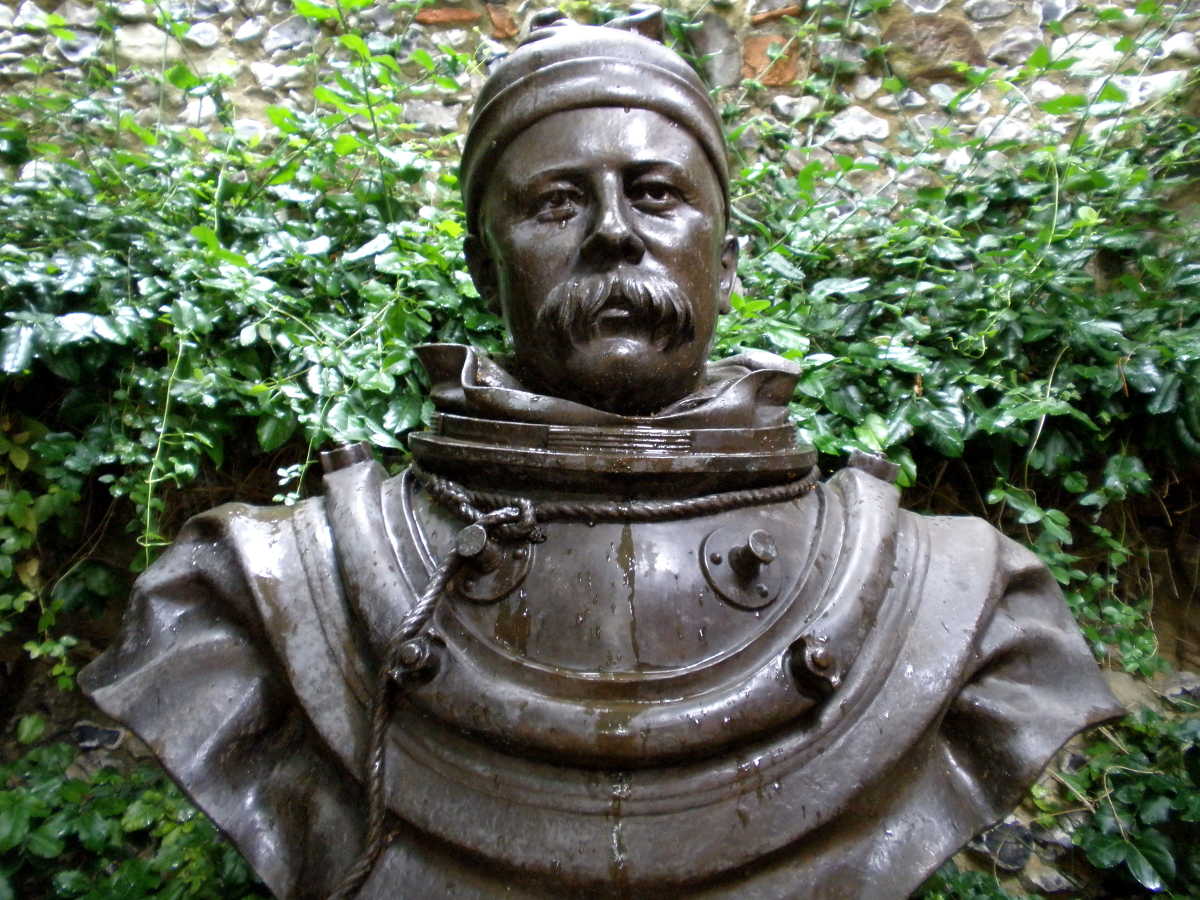 In 1905 Winchester Cathedral was in danger of collapsing as its eastern end sank into marshy ground. The surprising solution was to hire a diver, who worked underwater for five years to build a firmer foundation for the medieval structure. In this week's episode of the Futility Closet podcast we'll tell the story of William Walker and his curious contribution to saving a British landmark.
We'll also contemplate a misplaced fire captain and puzzle over a shackled woman.
Intro:
Anthony Trollope became a prolific author by simply demanding it of himself.
Wyoming's North Two Ocean Creek drains into both the Atlantic and the Pacific.
Sources for our feature on William Walker:
Ian T. Henderson and John Crook, The Winchester Diver, 1984.
Barry Shurlock, The Winchester Story, 1986.
Frederick Bussby, William Walker, 1970.
John Crook and Yoshio Kusaba, "The Transepts of Winchester Cathedral: Archaeological Evidence, Problems of Design, and Sequence of Construction," Journal of the Society of Architectural Historians 50:3 (September 1991), 293-310.
Gwilym Roberts, "How a Diver Saved Winchester Cathedral, UK: And Today's Solution?" Proceedings of the Institution of Civil Engineers — Engineering History and Heritage 166:3 (August 2013), 164-176.
"William Walker: The Diver Who Saved the Cathedral," Winchester Cathedral (accessed Feb. 25, 2018).
"Images of History," Journal of Diving History 21:2 (Spring 2013), 40.
John Crook, "William Robert Walker," Oxford Dictionary of National Biography, Sept. 23, 2004.
"How a Diver Saved a Cathedral," Ohio Architect, Engineer and Builder 20:4 (October 1912), 61.
"Foundations: The Use of Divers and the Grouting Machine," American Architect and Building News 93:1689 (May 6, 1908), 147.
"Portland Cement in the Restoration of Winchester Cathedral," Cement 13:3 (July 1912), 84.
"Winchester Cathedral," Journal of the Society of Estate Clerks of Works 19:222 (Dec. 1, 1906), 182.
"Diving at Winchester Cathedral," American Architect 90:1607 (Oct. 13, 1906), 120.
Charles William Domville-Fife, Submarine Engineering of To-Day, 1914.
J.W. Overend, "Saving a Cathedral With a Diver," Scientific American 108:19 (May 10, 1913), 428.
"Toilers Beneath the Sea," Popular Science 3 (1912), 1580.
"Hidden Service," Expositor and Current Anecdotes 13:5 (February 1912), 302.
"A Great Feat," Advance 62:2392 (Sept. 7, 1911), 303.
David Newnham, "Statuesque Mistake," Times Educational Supplement, May 30, 2003, 5.
Jonathan Petre and Hazel Southam, "Cathedral to Replace Statue of 'Wrong Man'," Telegraph, May 27, 2001.
"Another Statue in Aid of Cathedral Hero," [Southampton] Southern Daily Echo, Dec. 21, 2001.
"Croydon Man Helped to Save a Gothic Cathedral," Croydon Advertiser, May 15, 2014, 32.
Andrew John Davies, "Site Unseen: 'Diver Bill', Winchester Cathedral," Independent, Oct. 4, 1996, L2.
Sally A. Fall, "Winchester Cathedral Owes Debt to Diver," San Diego Union, June 26, 1988 G-3.
"Diver Who Saved a Cathedral," New Zealand Herald, Nov. 1, 2011, C.4.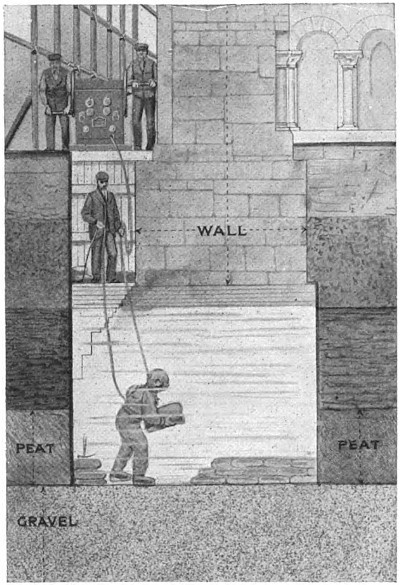 In this diagram, from Popular Science, 1912, two men operate a large pump at ground level. Below them, standing on a platform just above the water level, the diver's assistant pulls in and pays out the diver's air and signal lines as he moves about the trench. Walker, at the bottom, holds a bag of concrete that's just been lowered to him. The trenches were generally longer and narrower than depicted here, and the water would have been impenetrably clouded with sediment.
Listener mail:
"Police Want Anyone Who May Have Seen Toronto Firefighter on His Journey Across U.S. to Come Forward," CBC News, Feb. 14, 2018.
Jeff Farrell, "Skier Who Went Missing From New York Mountain Slopes Ends Up Six Days Later in California Still Wearing Ski Clothes," Independent, Feb. 15, 2018.
"Skier Lost in New York Doesn't Know How He Got to California," Associated Press, Feb. 14, 2018.
"Toronto Firefighter Who Disappeared in New York and Wound Up in California, May Have Travelled Across U.S. Thanks to Friendly Truck Driver," Toronto Star, Feb. 14, 2018.
Sofia Tancredi, "Anorexia Through the Ages: From Sainthood to Psychiatry," E/I Balance, March 3, 2013.
Muriel Darmon, Becoming Anorexic: A Sociological Study, 2016.
Jane E. Brody, "HEALTH; Personal Health," New York Times, May 19, 1988.
Fernando Espi Forcen, "Anorexia Mirabilis: The Practice of Fasting by Saint Catherine of Siena in the Late Middle Ages," American Journal of Psychiatry, April 1, 2013.
Wikipedia, "Fasting Girl" (accessed March 10, 2018).
"Sarah Jacobs: The Fasting Girl," BBC Wales, March 14, 2011.
This week's lateral thinking puzzle was contributed by listener Steven Jones. Here are two corroborating links (warning — these spoil the puzzle).
You can listen using the player above, download this episode directly, or subscribe on iTunes or Google Play Music or via the RSS feed at http://feedpress.me/futilitycloset.
Please consider becoming a patron of Futility Closet — on our Patreon page you can pledge any amount per episode, and we've set up some rewards to help thank you for your support. You can also make a one-time donation on the Support Us page of the Futility Closet website.
Many thanks to Doug Ross for the music in this episode.
If you have any questions or comments you can reach us at podcast@futilitycloset.com. Thanks for listening!