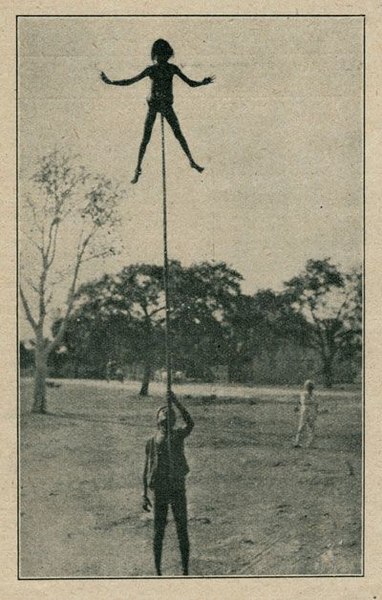 In early 1919, under the headline "The Great Indian Rope Trick Photographed for the First Time," the Strand published this image by Lieutenant F.W. Holmes, VC, MM. He said he'd taken it at Kirkee, near Poona, in 1917. An old man had begun "by unwinding from about his waist a long rope, which he threw upwards in the air, where it remained erect. The boy climbed to the top, where he balanced himself, as seen in the photograph, which I took at that moment. He then descended … I offer no explanation."
London's Magic Circle invited Holmes to present his photo at a special meeting open to the public, who were asked to wear evening dress "to give a good impression." Holmes repeated his story, which seemed to challenge the position that the trick had never been performed or was the effect of hallucination or hypnosis.
The editor of the Magic Circular, S.W. Clarke, charged that the photo showed a boy "balanced on top of a rigid rope or pole." Holmes had already stated that the juggler "had no pole — a thing that would have been impossible of concealment." But under questioning he admitted that there had been no rope — he'd merely seen a boy balancing atop a bamboo pole and had taken a photo of it.
That should have disposed of the story. But, as often happens, news of the debunking was much less interesting than news of the "proof," and few newspapers published it. "If the question of the rope trick's existence arose, and it arose many times," writes Peter Lamont in The Rise of the Indian Rope Trick, "somebody regularly pointed out that the camera never lied, but nobody ever suspected the photographer. As a result, the Holmes photograph remained for many definitive proof that the rope trick was real."