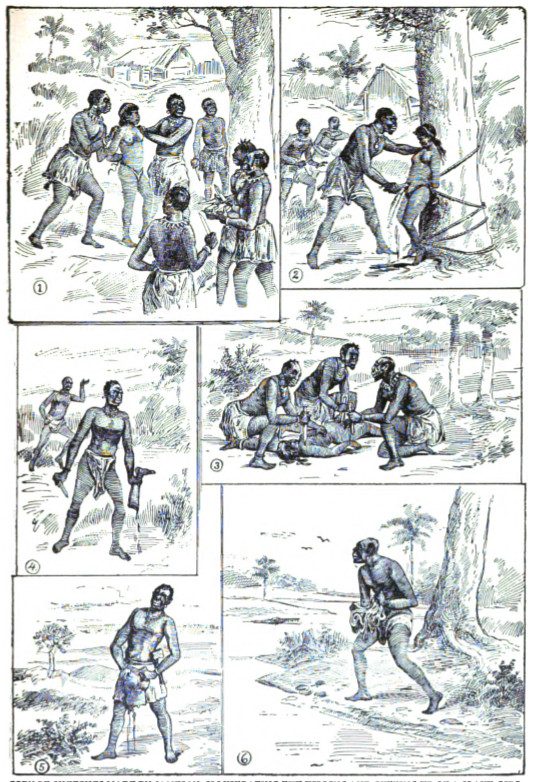 During Henry Stanley's 1886 Emin Pasha Relief Expedition to the interior of Africa, naturalist James S. Jameson allegedly paid a group of cannibals to kill and eat a young girl so that he sketch the act. According to his interpreter, Assad Farran, Jameson afterward took the sketches to his tent, finished them in watercolors, and then "showed these and many other sketches to all the chiefs."
Jameson protested the accusation, but his own diary describes the killing:
I told him that people at home generally believed that these [accounts of cannibalism] were only 'travellers' tales,' as they are called in our country, or, in other words, lies. He then said something to an Arab called Ali, seated next him, who turned round to me and said, 'Give me a bit of cloth, and see.' I sent my boy for six handkerchiefs, thinking it was all a joke, and that they were not in earnest, but presently a man appeared, leading a young girl of about ten years old by the hand, and I then witnessed the most horribly sickening sight I am ever likely to see in my life. He plunged a knife quickly into her breast twice, and she fell on her face, turning over on her side. Three men then ran forward and began to cut up the body of the girl; finally her head was cut off, and not a particle remained, each man taking his piece away down to the river to wash it. The most extraordinary thing was that the girl never uttered a sound, nor struggled, until she fell.
In his 1889 account of the expedition, Heroes of the Dark Continent, James William Buel presents the images above as copies of Jameson's sketches.
Another of Stanley's men claimed that Jameson had spoken freely of the incident at the time, and only realized "the seriousness" of his actions much later. "Life is very cheap in Central Africa," he wrote. "Mr. Jameson forgot how differently this terrible thing would be regarded at home."