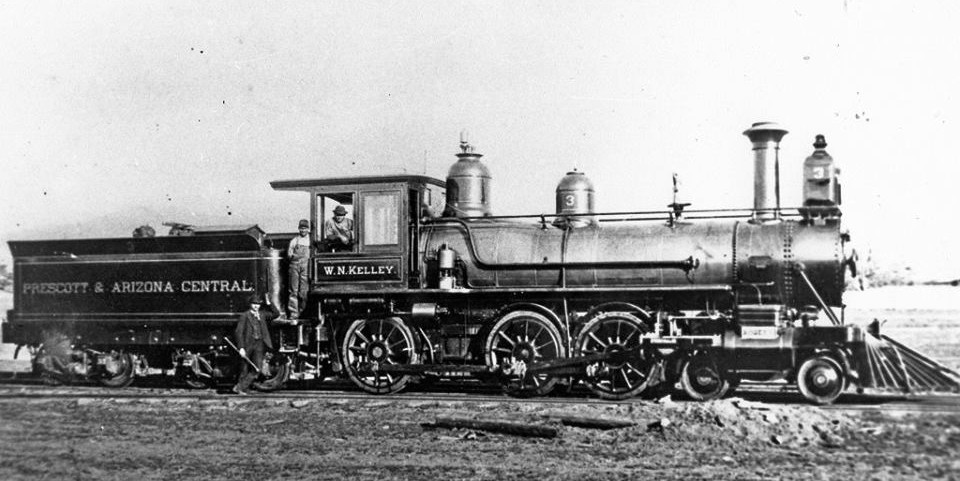 Recognize this locomotive? You've almost certainly seen it before: Built in 1891, "Sierra No. 3" was adopted by Hollywood in 1948 and became "the most photographed locomotive in the world," appearing in The Red Glove, The Terror, The Virginian, The Texan, Young Tom Edison, Sierra Passage, Wyoming Mail, High Noon, The Cimarron Kid, Kansas Pacific, The Moonlighter, Apache, Rage at Dawn, The Return of Jack Slade, Texas Lady, The Big Land, Terror in a Texas Town, Man of the West, Face of a Fugitive, The Outrage, The Rare Breed, The Great Race, The Perils of Pauline, Finian's Rainbow, A Man Called Gannon, The Great Bank Robbery, Joe Hill, The Great Northfield Minnesota Raid, Oklahoma Crude, Nickleodeon, Bound for Glory, The Apple Dumpling Gang Rides Again, The Long Riders, Pale Rider, Blood Red, Back to the Future Part III, Unforgiven, and Bad Girls.
Gary Cooper alone starred in four movies with it, including High Noon; Clint Eastwood, who appeared with it in Rawhide, Pale Rider, and Unforgiven, said it was "like a treasured old friend." TV shows:
The Lone Ranger, Tales of Wells Fargo, Casey Jones, Rawhide, Overland Trail, Lassie, Death Valley Days, The Raiders, Petticoat Junction, The Wild Wild West, The Big Valley, The Legend of Jesse James, Scalplock, Iron Horse, Cimarron Strip, Dundee and the Culhane, The Man From U.N.C.L.E., Ballad of the Iron Horse, Gunsmoke, Bonanza, The Great Man's Whiskers, Inventing of America, Little House on the Prairie, Law of the Land, A Woman Called Moses, Lacy and the Mississippi Queen, Kate Bliss and the Ticker Tape Kid, The Night Rider, The Last Ride of the Dalton Gang, Belle Starr, East of Eden, Father Murphy, The A-Team, Bonanza: The Next Generation, The Adventures of Brisco County, Jr., and Doctor Quinn, Medicine Woman.
William L. Withhuhn, former transportation history curator at the Smithsonian Institution, wrote, "Sierra Railway No. 3 has appeared in more motion pictures, documentaries, and television productions than any other locomotive. It is undisputedly the image of the archetypal steam locomotive that propelled the USA from the 19th century into the 20th."