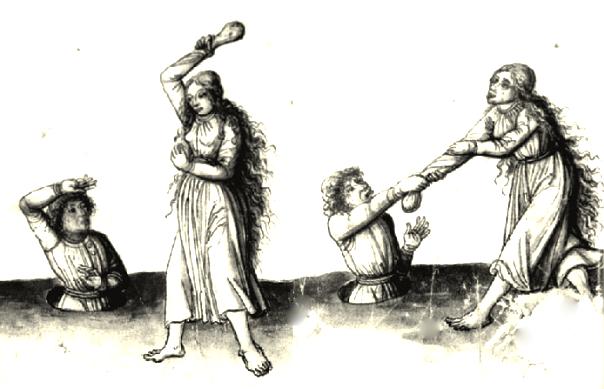 In the Middle Ages, husbands and wives would sometimes settle their differences with physical combat. To compensate for the man's greater strength, his wife was given certain advantages:
The woman must be so prepared that a sleeve of her chemise extend a small ell beyond her hand like a little sack. There indeed is put a stone weighing three pounds; and she has nothing else but her chemise, and that is bound together between the legs with a lace. Then the man makes himself ready in the pit over against his wife. He is buried therein up to the girdle, and one hand is bound at the elbow to the side.
In other drawings the man sits in a tub; in one the two fight with drawn swords. "Judicial duels were common enough in the medieval and early modern period to merit etiquette books," writes scholar Allison Coudert, "but, as far as I know, nowhere except in the Holy Roman Empire were judicial duels ever considered fitting means to settle marital disputes, and no record of such a duel has been found after 1200, at which time a couple is reported to have fought with the sanction of the civic authorities at Bâle." The drawings that have survived come from historical treatises of the 15th and 16th centuries.
(Allison Coudert, "Judicial Duels Between Husbands and Wives," Notes in the History of Art 4:4 [Summer 1985], 27-30.)