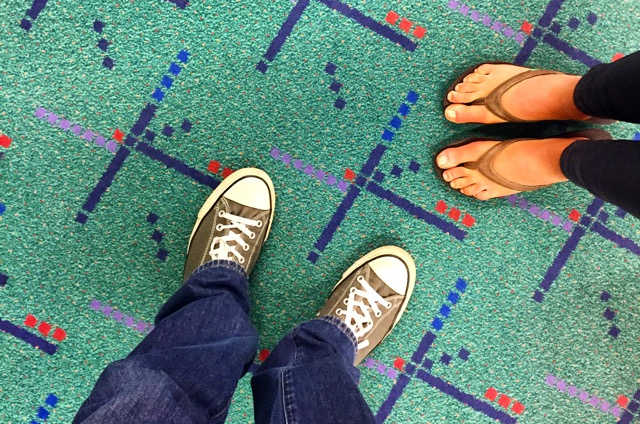 When Portland, Oregon, carpeted its airport in 1987, it chose a bold design in blues and greens rather than the unmemorable beige underfoot in most American terminals. Designer John Schleuning composed a pattern that reflected the airport's intersecting North-South runways as seen from the control tower, and the result became a surprise hit, with its own Twitter account and 20,000 pictures on its Instagram hashtag.
Twenty-six years later, the unthinkable happened: The carpet reached the end of its life, and the airport set about replacing 14 acres of it, fashioning one 11×16-foot section into a memorial collage and giving away much of the rest as keepsakes.
The city went into mourning. "We understand that people have an emotional connection to the carpet," Port of Portland spokeswoman Annie Linstrom told Portland Monthly, uttering this sentence for the first time in human history. The chief operating officer added, "Normally we do these ribbon cuttings when we're introducing a new thing, but it's actually the reverse of that in removing the old carpet. We're going to miss the carpet and we appreciate the community and the love of this carpet." The Monthly even published an elegy, "Ode on a Carpet," by "T.S.A. Eliot."
You can still keep the old carpet underfoot, though, for a price: Portland Trail Blazers point guard Damian Lillard has added the design to two models of his Adidas D Lillard sneakers, below, and you can buy some socks to go with them.