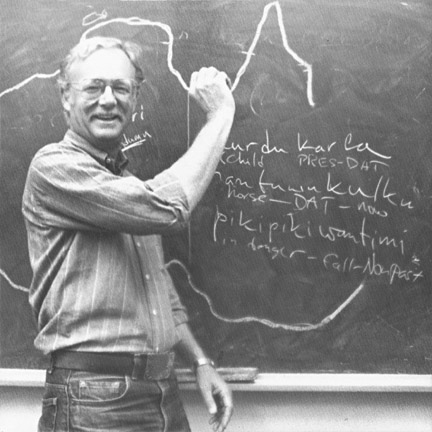 Linguist Ken Hale had a preternatural ability to learn new languages. "It was as if the linguistic faculty which normally shuts off in human beings at the age of 12 just never shut off in him," said his MIT colleague Samuel Jay Keyser.
"It's more like a musical talent than anything else," Hale told The New York Times in 1997. "When I found out I could speak Navajo at the age of 12, I used to go out every day and sit on a rock and talk Navajo to myself." Acquiring new languages became a lifelong obsession:
In Spain he learnt Basque; in Ireland he spoke Gaelic so convincingly that an immigration officer asked if he knew English. He apologised to the Dutch for taking a whole week to master their somewhat complex language. He picked up the rudiments of Japanese after watching a Japanese film with subtitles.
He estimated that he could learn the essentials of a new language in 10 or 15 minutes, well enough to make himself understood, if he could talk to a native speaker (he said he could never learn a language in a classroom). He would start with parts of the body, he said, then animals and common objects. Once he'd learned the nouns he could start to make sentences and master sounds, writing everything down.
He devoted much of his time to studying vanishing languages around the world. He labored to revitalize the language of the Wampanoag in New England and visited Nicaragua to train linguists in four indigenous languages. In 2001 his son Ezra delivered his eulogy in Warlpiri, an Australian aboriginal language that his father had raised his sons to speak. "The problem," Ken once told Philip Khoury, "is that many of the languages I've learned are extinct, or close to extinction, and I have no one to speak them with."
"Ken viewed languages as if they were works of art," recalled another MIT colleague, Samuel Jay Keyser. "Every person who spoke a language was a curator of a masterpiece."