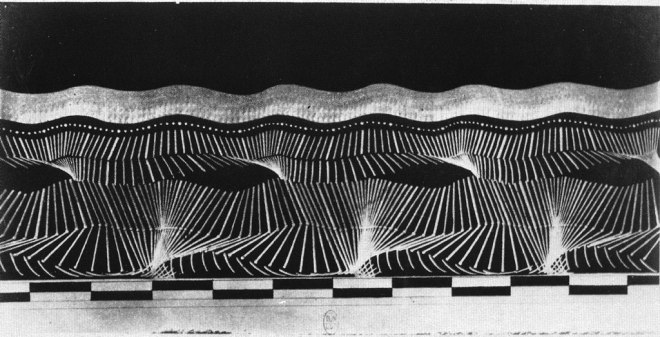 In 1883, in his studies of the human gait, French physiologist Étienne-Jules Marey asked a soldier to walk past a camera with an open shutter. Before the lens Marey had placed a rotating disk in which he'd cut slots at regular intervals. As the soldier walked, the slots permitted successive images to register on the same photographic plate, producing a "chronophotograph" — a portrait of human movement in time and space.
This opened a new window into the representation of motion — among other things, it helped to inspire Marcel Duchamp's 1912 Nude Descending a Staircase: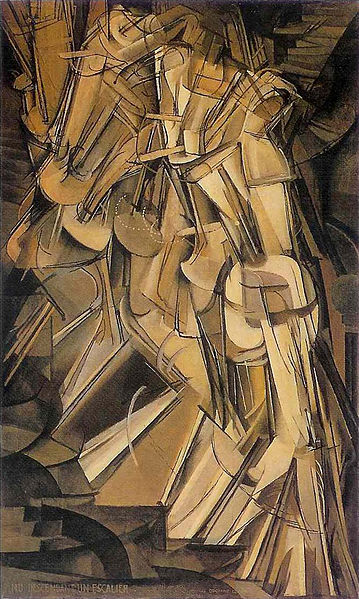 Duchamp said, "The idea of describing the movement of a nude coming downstairs while still retaining static visual means to do this, particularly interested me. … My aim was a static representation of movement, a static composition of indications of various positions taken by a form in movement."
Engineer Frank Gilbreth, who made a science of optimizing human movement, at one point used a similar technique to study the swing of Connecticut golf champion Roger Hovey. He was surprised to find that the path of Hovey's upswing varied from that of the downswing by more than 12 inches, and his head moved more than a foot. Intrigued, he studied Gilbert Nicholls, and later Francis Ouimet and Jim Barnes. All varied their swings, and all moved their heads.
When Gilbreth showed these results to a friend in London, "his only comment was to the effect that he had previously suspected that we didn't know much about golf in America. Which only goes to show."