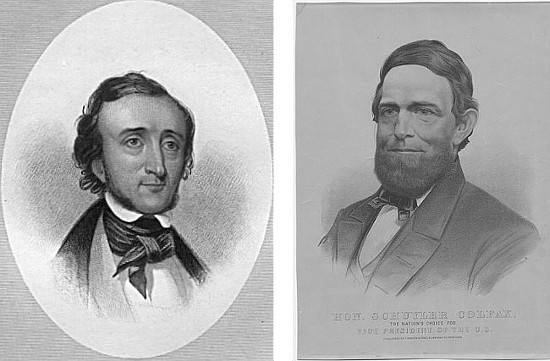 For four months in 1840 Edgar Allan Poe conducted a puzzle column for the Philadelphia newspaper Alexander's Daily Messenger. In that time he defied his readers to send him a cryptogram that he could not solve, and at the end of his tenure he declared himself undefeated. One of the later challenges came from 17-year-old Schuyler Colfax of New Carlisle, Iowa, who would grow up to become vice president of the United States:
Dear Sir — As you have in your Weekly Messenger defied the world to puzzle you by substituting arbitrary signs, figures, etc. for the different letters of the alphabet, I have resolved to try my utmost to corner you and your system together, and have manufactured the two odd looking subjects which accompany this as avant couriers. … If you succeed in solving the accompanying, I will, of course, as you request, acknowledge it publicly to my friends.
Poe responded: "We have only time, this week, to look at the first and longest cypher — the unriddling of which, however, will no doubt fully satisfy Mr. Colfax that we have not been playing possum with our readers." Here's Colfax's cryptogram:
8n()58†d w!0 b† !x6n†z k65 !nz k65,8l†n b)x 8nd)Pxd !zw8x 6k n6 36w-†nd!x86n;
x=†0 z†,5!z† x=† w8nz 8n 8xd 62n †dx††w !nz k653† 8x x6 5†36l†5 8xd P†l†P b0 5†l†n,†.
()n8)d
What's the solution?