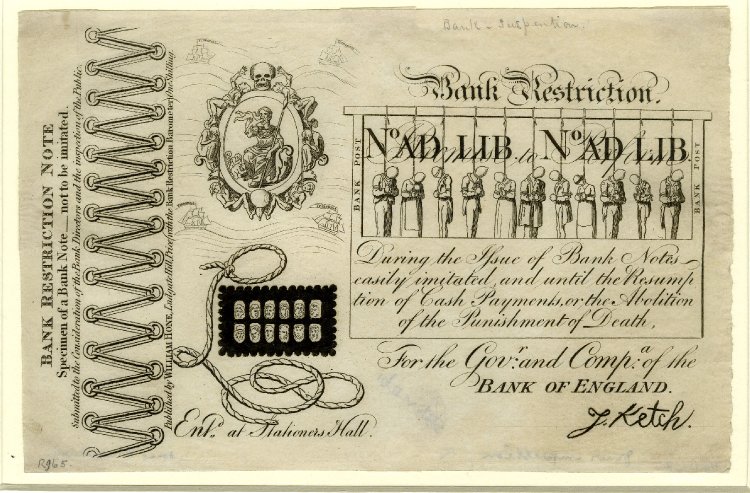 In 1818 caricaturist George Cruikshank saw several people hanging from a gibbet near Newgate Prison in London and learned to his horror that they had been executed for passing forged one-pound notes — at the time, doing so even unknowingly was punishable by death or transportation.
The fact that a poor woman could be put to death for such a minor offence had a great effect upon me — and I at that moment determined, if possible, to put a stop to this shocking destruction of life for merely obtaining a few shillings by fraud; and well knowing the habits of the low class of society in London, I felt quite sure that in very many cases the rascals who forged the notes induced these poor ignorant women to go into the gin-shops to 'get something to drink,' and thus pass the notes, and hand them the change.
He went home and dashed off this sketch, which was then printed on the post paper used by the bank, so that it would resemble counterfeit currency. "The general effect was of a counterfeit, but closer examination revealed that every element of the official design had been replaced by a savage parody," writes Robert L. Patten in George Cruikshank's Life, Times, and Art. The seal shows Britannia eating her children, the stamp depicts 12 tiny heads in prison, and the pound sign is a coiled hangman's rope.
The protest created a sensation, and remedial legislation was passed. Cruikshank's satire, noted the Examiner, "ought to make the hearts of the Bank Directors ache at the sight."